How banks are keeping pace with fintech
Laura Spiekerman sits down with Hank Word, President of Open Banking at Evolve Bank & Trust to discuss the future of bank/fintech partnerships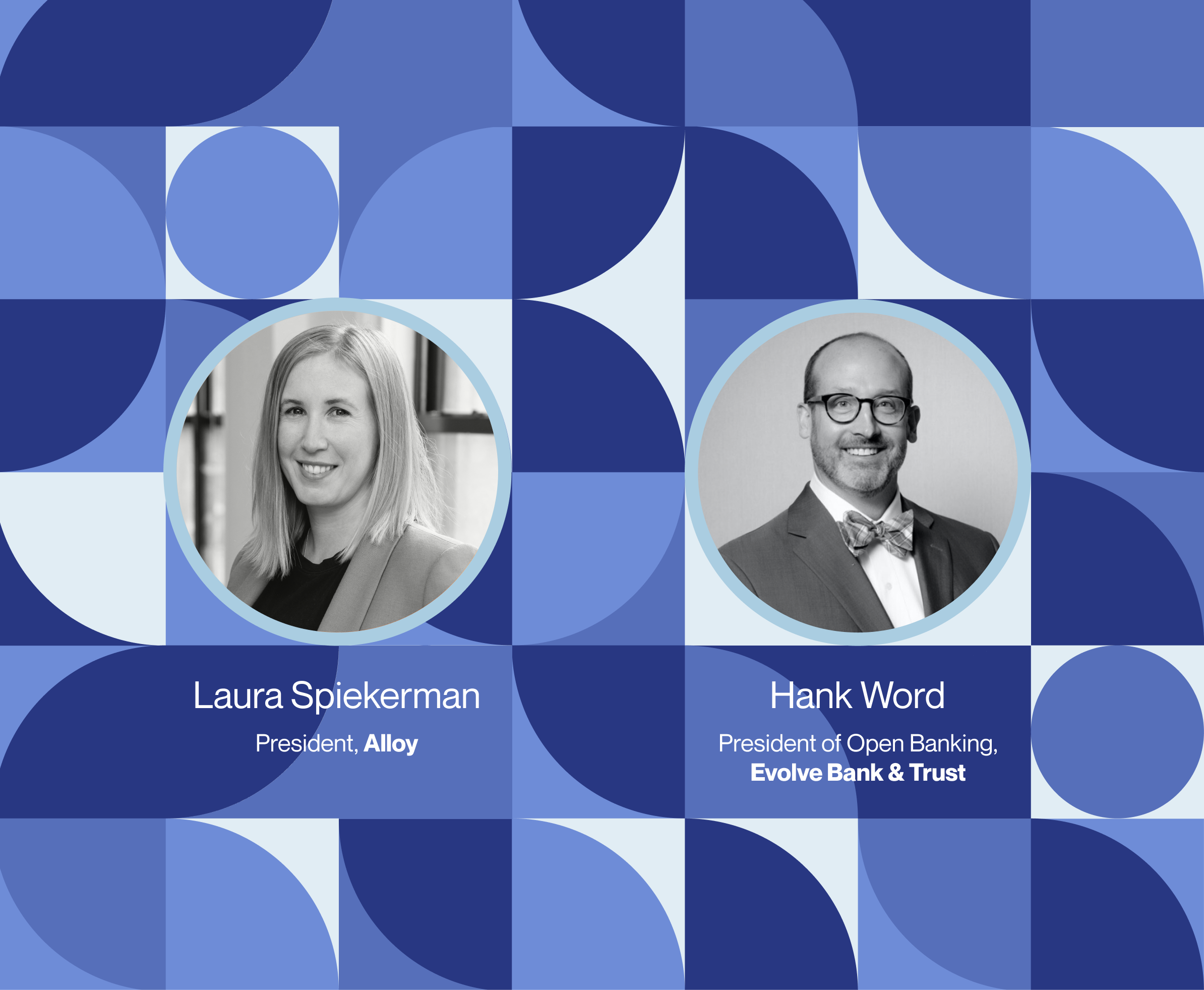 In the last six+ years, partnerships between banks and fintech companies have played an important role in enabling a more competitive and inclusive financial industry. They've opened the door for new voices and new ideas to enter the ring of financial services, an industry that has historically had a lot of barriers to entry. Overall, it's been a very good thing for our industry and for the end consumer. But to keep the good times (and innovation) rolling, banks and fintech partners must work together to stay compliant — even amidst the new regulatory scrutiny.
Bank and fintech partnerships are in the hot seat right now. Regulators are keeping a close eye on them and beginning to impose tighter requirements. I don't suspect the increased scrutiny on bank/fintech partnerships will slow down anytime soon, but that doesn't mean banks should steer away from fintech partnerships altogether.
Thankfully, Evolve Bank & Trust remains committed to partnering with fintech companies. Last week, I had the opportunity to sit down with Hank Word, President of Open Banking, at Evolve to talk about their experience being a top partner bank, and find out how they are approaching the impending regulatory requirements that go along with fintech partnerships.
LAURA SPIEKERMAN:
Hank, how did Evolve make the decision to become a partner bank?
HANK WORD:
Evolve Bank & Trust has a long and celebrated history of innovation and adaptability. Since the beginning, Evolve has understood the importance of staying ahead of trends while providing the necessary tools for our customers to reach their financial goals. About six years ago, we recognized that becoming a partner bank to neobanks was the next step in banking evolution. At that time, we saw fintech as not only the future of banking, but also a way to stay true to our innovation-first strategy.
That strategy made it natural for us to focus on fintech. Banking was changing, and the roles of community, regional, and national banks were being reduced in favor of all app-driven neobank solutions. The new generation of banking customers was attracted to apps and neobanks as their primary bank accounts. What we saw was that for these customers it was more about the convenience and speed of apps than the relationships with traditional bank tellers.
We weren't alone in seeing these trends of younger customers wanting the ease and convenience of banking apps. Larger banks poured millions into their own online and mobile banking experience. What we saw though, was an opportunity to get in on the ground floor of the fintech revolution. By partnering with neobanks, which were experts in building apps, we were able to do what we do best, handling compliance and financial products. These partnerships not only benefited us, but also the neobanks by having an FDIC-insured institution handle some of the back-end banking.
LAURA SPIEKERMAN:
In September, the Office of the Comptroller of the Currency (OCC) made waves when it ordered the Virginia-based partner bank, Blue Ridge Bank, to improve its oversight of third-party fintech partnerships. How is Evolve reacting to the increases in regulatory scrutiny?
HANK WORD:
At Evolve, we welcome more strategic regulation. While we don't report to the OCC, we are encouraged by some of their efforts to protect consumers. We believe regulators can help innovation, by setting the rules and standards by which the innovators can develop their products. Unfortunately, there are bad actors out there, hopefully, more scrutiny and regulation can stay ahead of them, to protect end users.
To stay compliant in an increasingly complicated regulatory environment, partner banks and their fintech partners need to practice radical transparency with each other. Fintech companies must make it easy for their partner banks to complete their due diligence. The first thing everyone should do is be transparent with each other. Fintech companies have to understand that we have rules and regulations that we are responsible for, and we have to be able to show regulators we are following all those rules.
LAURA SPIEKERMAN:
How can fintech companies help make the due diligence process easier for you?
HANK WORD:
The scout's motto comes to mind; 'always be prepared.' When we are onboarding potential partners, we need a lot of information. This ranges from their financial records to their go-to-market strategy, to their target customer base. We also look at how each potential partner plans to sell their services. Having this information readily available and proactive communication when something changes are vital to creating a totally transparent due diligence process.
LAURA SPIEKERMAN:
Since we are at the start of the year, why don't we wrap things up with your best advice for a strong bank/fintech partnership in the coming year?
HANK WORD:
The key is to take a proactive risk management approach that maintains a seamless user experience. Partner banks are working with lots of different types of fintech companies with different rules. KYC and CIP programs are extremely important for the partner bank. At Evolve, for example, we have to be able to show regulators that users' identities are being validated. Meanwhile, fintech partners are focused on being as frictionless as possible. That's where Alloy comes in. Alloy understands both what the fintech is trying to do and also what the banks are required to do. They help us balance enabling a frictionless experience for the fintech's users with the legal requirements that come along with offering financial products..
Innovating together
Bank and fintech partnerships have resulted in some of the most exciting innovations the banking industry has ever seen, while bringing in a whole new segment of customers that traditional banking had overlooked. While compliance requirements can be challenging to put in place, they needn't stifle innovation. Instead, banks and fintech companies should view these requirements as something that protects their mutual users and helps them grow their businesses responsibly. Alloy fits into the partnership as a mediator that helps the partner banks remain compliant while the fintech provides a seamless digital experience.