Alloy wins three Built In 2022 Best Places to Work Awards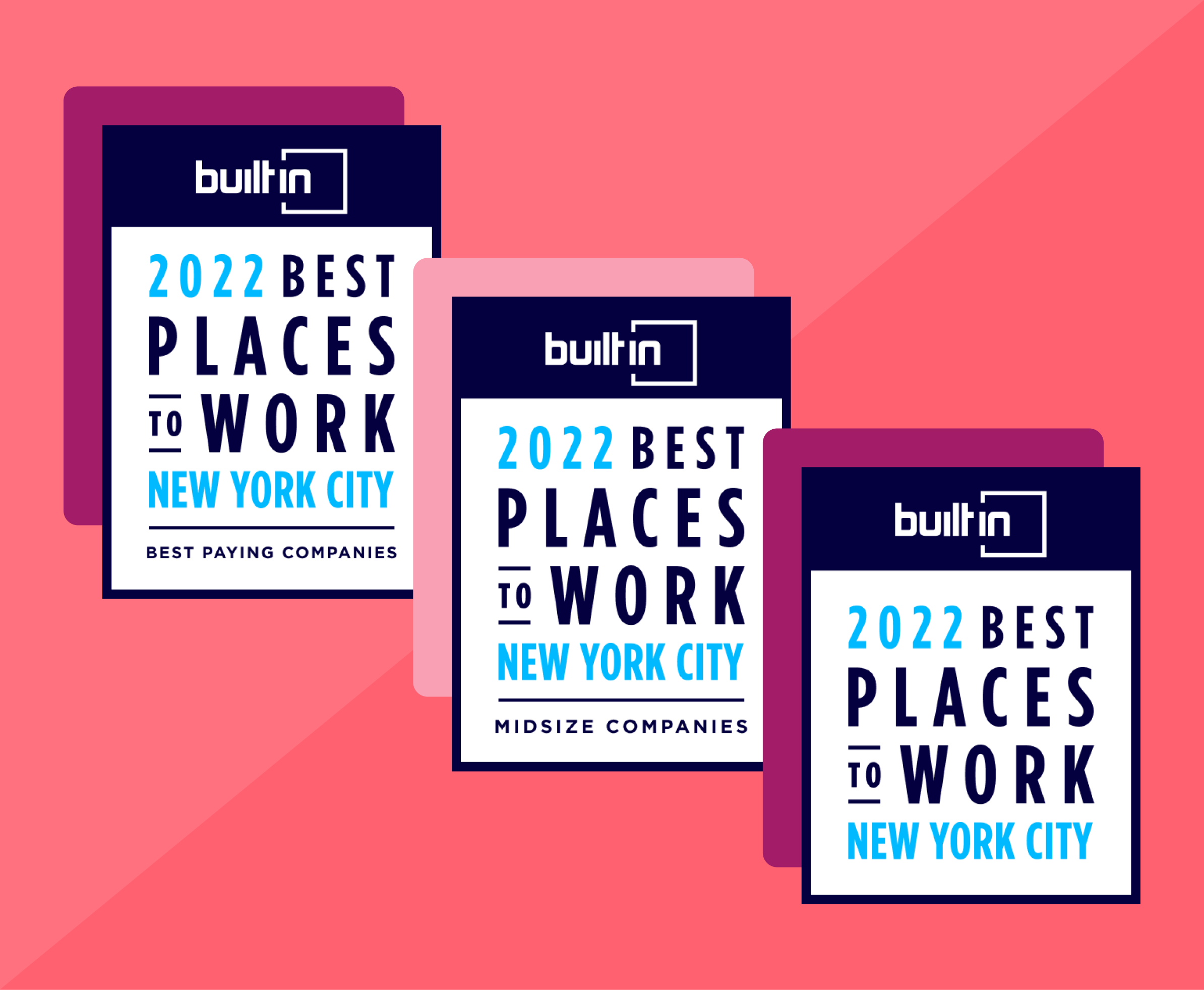 After an eventful 2021, we're excited to celebrate our first milestone of the new year: being honored by Built In in its 2022 Best Places to Work Awards. Alloy was recognized in the 100 Best Places to Work, 50 Best Paying Companies, and 100 Best Midsize Companies to Work For in NYC categories.
The annual awards program includes companies of all sizes, from startups to enterprise companies, and honors both remote-first employers as well as companies in the eight largest tech markets across the U.S. Built In determines the winners of Best Places to Work based on an algorithm, using company data about compensation, benefits and company-wide programming. Being recognized by Built In's Best Places to Work Awards confirms that our assortment of employee benefits and perks is best-in-class.
Prioritizing our people
Over the past year, we more than doubled in headcount, opened a new headquarters in the Union Square neighborhood of Manhattan, and balanced in-person, remote and hybrid work environments as we adapted to the ongoing pandemic. We launched two new products, gained over 100 new clients, and raised $100M in Series C funding. And through all the twists and turns, our leadership and people teams continued to prioritize the Alloy team members that make it all possible.
Our benefits package puts an emphasis on our employees' well-being as much as possible. We offer unlimited PTO and encourage our employees to make good use of it. New parents can transition into parenthood during 16 weeks of paid parental leave. In addition to healthcare benefits, we stress the importance of mental health by offering free therapy and meditation sessions. Our ClassPass benefit is another great way for people to stay healthy through a variety of workout and self-care options such as yoga sessions or massages.
Hybrid perks
As we grew and supported more employees, whether they were working from home, our new office, or a mix of the two, we offered perks to accommodate whichever working environment our employees chose. Everyone receives a stipend to set up their home office, a bi-monthly Public Goods credit, and a monthly Seamless credit to ensure that when they are working from home, they have a comfortable workstation and ample brain fuel (snacks).
For employees that were excited to make use of our new office in Union Square, we offered lots of cold brew, La Croix, free food and opportunities for social gatherings to build in-person connections. When the pandemic permitted, we provided opportunities for remote employees to meet the rest of the team, too, such as our 100th employee party and our summer retreat in the Poconos.
Culture is key
Starting with the hiring process, where we recruit a diverse group of individuals, to our compensation and benefits packages and our company values and events, we aim to cultivate an environment where employees feel comfortable, accepted and valued. Acknowledgments like the ones given to us by Built In mean a lot to us because it proves we are on the right track.