Whitepages Pro & Alloy announce official partnership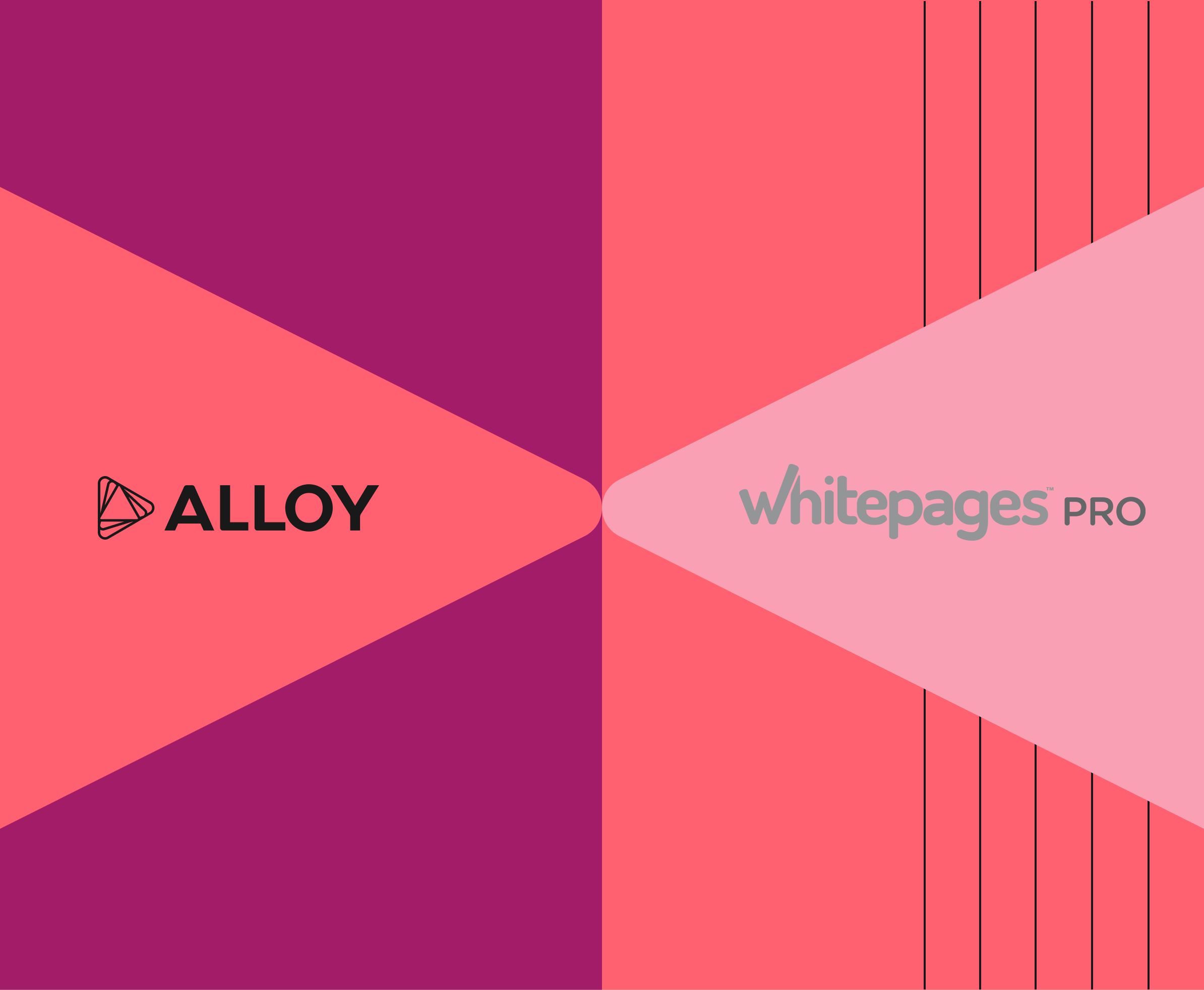 Press release | March 21st 2019, NY
Alloy and Whitepages Pro are excited to announce their official partnership today
Whitepages Pro has prevented significant fraud already for many Alloy clients
Alloy has allowed Whitepages Pro access to more clients across the banking and fintech sector
Alloy and Whitepages Pro have built up experience working together across multiple financial institutions, from early-stage fintechs to digital-first banks, and are excited to progress their joint offering to this next stage.
Alloy provides an identity and risk decisioning platform that enables organizations to achieve up to 98% automated decisions and to cut fraud by up to 50%. Decisions within Alloy are based on the input from third party data sources such as Whitepages Pro. The data sources selected, and the logic behind the decisions, is customized for each organization and designed to evolve over time flexibly and easily.
Alloy's pre-integrated data sources make it easy for companies to test out new data sources within their identity and risk decisioning workflows, and features like Champion-Challenger demonstrate the value of data sources such as Whitepages Pro.
Whitepages Pro provides a powerful source of identity data from the curated global coverage and algorithms that handle over 2 billion contact records each month to produce a complex and up-to-date view.
"We have found Whitepages Pro to be a fantastic data source to position early in the decisioning waterfall", said Tommy Nicholas, Alloy CEO. "It's a great source to weed out fraudsters early in customer sign-up process before hitting some of the more costly sources."
With use cases in production ranging from digital bank account opening to online loan applications, Alloy and Whitepages Pro look to partner together to strengthen their officering. As Tom Donlea, VP of Global Partnerships, from Whitepages Pro said, "We're excited to be formalizing our partnership with Alloy and exploring how our joint services can benefit more financial services organizations".
About Alloy:
Alloy helps companies make better decisions with better information, using a single API service and dashboard to manage identity verification from signup through the lifecycle of the customer. Alloy makes it easy for financial services companies to quickly and safely decision more customers and transactions, mitigating fraud and high-cost financial risk.
Visit alloy.com to learn more and follow them on Twitter @UseAlloy.
About Whitepages Pro:
Whitepages Pro provides global identity verification solutions including enterprise-scale APIs for models and decisioning platforms, and Pro Insight for manual review. We help companies identify legitimate customers, prevent fraudulent transactions, and smooth new customer account creation by applying complex data science including pattern recognition, predictive analytics, and machine learning to the five core consumer attributes of email, phone, person, physical address, and IP. Powered by the fastest and most reliable tech stack in the market, our global identity verification solutions deliver unparalleled coverage and accuracy around the globe.
Questions of further comment please contact: [email protected]
Look out for Alloy and Whitepages Pro at KNOW Identity 2019 Conference!