Alloy expands platform to add Transaction Monitoring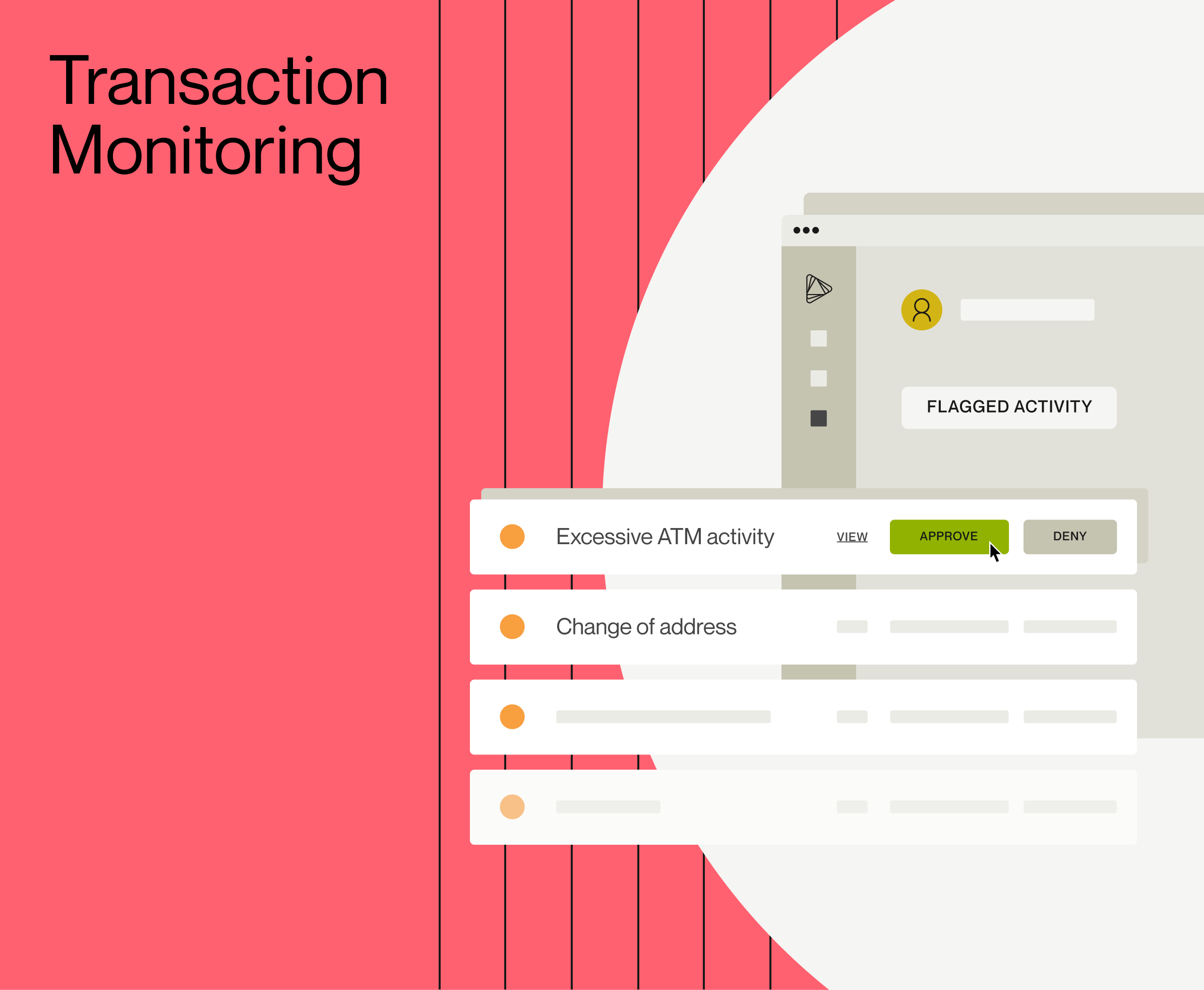 Alloy's mission to evolve how identity decisions are made has taken another leap forward. Today we are announcing the addition of Transaction Monitoring to our suite of solutions. Our clients will now be able to build identity profiles, beginning with what they learn during the onboarding process, to now include what they continue to learn, to help make better decisions throughout their customer's lifecycle.
Transaction Monitoring automates decisioning on high-risk events and transactions, helping financial institutions flag suspicious activity to fight fraud and meet BSA/AML requirements. You get a holistic view of your customers' ongoing risks with real-time API activity monitoring, and easy-to-use case management lets you identify and act on flagged activity right within Alloy.
How it works
We start by ingesting transaction and account activity data through a real-time or batch API connection. Our platform is flexible enough to accommodate different data processors and data models, transforming complex data into clean, automated processes.
The transactions and other financial activity go through custom fraud detection workflows. To build the workflow, you can choose from commonly used rules or build custom rules to fit your needs. You decide what risk thresholds to put in place and under what conditions you get alerted. Workflows and rules can be as simple or complex as needed depending on your organization's goals and risk tolerance, and they can be updated without any coding so it's easier to keep up with changing threats.
For example, you can start by alerting on a simple activity: if an account had an excessive number of transactions in a short time period. Then, you can fine-tune the criteria by adding more granular checks: only consider excessive ATM transactions in a certain time frame. You can even fine-tune this further by only alerting on customers that have recently changed their address or phone number and then start behaving suspiciously.
You can act on flagged activity right within Alloy's case management system. Review flagged activity, collaborate with other team members, and make approval or denial decisions from a simple user interface.
All customer account activity and transactions are added to that customer's identity profile, building on the information collected during onboarding. This robust and evolving profile lets you understand the risks and needs of your customers throughout their lifecycle.
How it helps
We are proud to say our clients using Transaction Monitoring are seeing dramatic reductions on both manual reviews and false-positive rates, as well as greater insights into their customers' ongoing risks. Coming out of our beta phase, Alloy has already processed over 70 million transactions for our clients, and this number is increasing daily.
The Transaction Monitoring benefits only increase when paired with Alloy's Onboarding solution. The information captured during onboarding, when viewed with ongoing transaction and account activity, helps you build an ever-evolving picture of your customer.
Jason Gross, Petal Co-Founder and CEO
"We've relied on Alloy to automate our onboarding workflow for years - adding transaction monitoring was the obvious next step. Now, not only can we quickly verify our users' identities during account opening, but we also get a full picture of their ongoing risks and needs. Seeing that full customer profile gives us the insight we need to prevent fraud, meet compliance requirements, and most importantly support our customers."

Automating decisioning with Transaction Monitoring also helps focus employee time on what is most important. By building customized rules to only flag the activity that poses real risk, your team doesn't have to spend time reviewing unnecessary alerts. And since we know engineering resources are always stretched, we made a user-friendly UI that allows any authorized user to update workflows and rules without coding.
Alloy strives to help banks and fintech companies use data to automate decisioning and get the full picture of their customers. With the addition of TM to our Identity Decisioning Platform, Alloy is bringing more pieces of digital identity into a centralized platform so that our customers can make better decisions.