Vegetable Enchiladas
By
|
This monthly mingle event is hosted by What's For Lunch Honey and entitled Earth Food.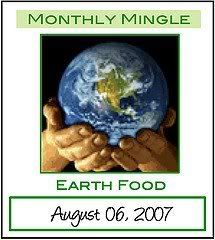 There has been alot of talk going on lately about eating food that is grown close to home or at home in your own garden. This is good for the environment in so many ways…less packaging, less transport…supporting local small farmers. It is good for our bodies in many ways, higher nutrition, better, fresher foods…
What are we doing for the environment at my house? We are restoring an old farmhouse and we are using earth friendly methods and materials as we can. We are looking in to solar power panels, rain collection systems and 0 VOC paint. We raise dairy goats and chickens and I keep trying to have a garden and someday it will even work!
We used to be vegan, then vegetarian, then we went back to  eating meat but always have been whole foods oriented.  In the past several months I have felt the pull to be more careful about what we eat, and that has been confirmed many times for me by the various meat recalls!
  Organic meats are expensive so I have found that I am naturally gravitating back toward more vegetable based meals and letting the meat be less of a *star* in the show.  These enchiladas are fantastic.  I created them a long time ago after eating enchiladas at the cafe at our local Wholefoods Market.  Sadly, the cafe no longer exists but the enchiladas live on!
Vegetarian enchiladas
       serves 6
12 tortillas, corn or wholewheat
Filling:
8 oz portabella mushrooms chopped coarsely
3 garlic cloves chopped
1 onion chopped
3 zucchini, julienned
3 carrots, julienned
1  (or more) chile chopped
1-2 bell peppers julienned (a mix is nice here)
1/2 bunch fresh cilantro
1 c grated cheese of choice (you may use soy cheese)
salt and pepper to taste
 a little olive oil for sauteeing
  Basically you can add any vegetable you have, leftover or whatever is prolific in the garden…
  Sautee vegetables in olive oil, starting with the longest cooking and adding as needed so that all vegetables are cooked but still firm. Add chopped cilantro and mix well. Set aside.
Enchilada Sauce
1/2 onion
2 cloves garlic
1 can Muir Glen fire roasted tomatoes
1 tsp cumin
1 TBS chili powder
1/2 tsp dried chopped chipotle (Archer Farms does a good one)
salt and pepper to taste
saute onion and garlic until onion is transparent. Add rest of ingredients and simmer 20 minutes. Process in blender or food processor. If sauce is to watery then return to heat to reduce to desired consistancy.
Topping:
1/2 c grated cheese of choice (use soy cheese for a vegan dish)
Heat tortillas, dip in sauce, and then lay on a plate. Put about 2 Tbs of filling in tortilla, sprinkle with some grated cheese, and roll up. Lay in 13 x 9″ pan that has been spread with a little of the enchilada sauce, seam side down. Repeat.
  Drizzle with sauce. Sprinkle with ab0ut 1/2 c cheese. Sprinkle a little chopped cilantro over all. Bake at 350 for 30 minutes or until warmed through and cheese is melted.
 Serve with a salad,  brown rice, and some cut up, fresh, tropical fruit…