The 25 Best Thanksgiving Pie Recipes, Ever
By
|
Hey, Blisstree reader. We thought you might like these 5 new Thanksgiving posts we just published:
Holiday Baking Prep: 10 Dessert Recipes to Try Before Thanksgiving
Holiday Gallery: 10 Gluten-Free Thanksgiving Recipes

Gallery: 10 Thanksgiving Movies That May Make You Appreciate Your Crazy Family
Gear Down for Thanksgiving: 10 Kitchen Supplies You Don't Need for the Holidays
Green Turkey Gallery: 10 Ways to Make Thanksgiving More Eco-Friendly
We usually have several pies and other desserts because I can never decide which ones I want to make. While you can only make and freeze pie crusts and fruit pies, with two weeks to go until Thanksgiving I thought it might be fun to check out 25 of the best Thanksgiving pies on the Internet.
I have no clue how I am going to decide which to make…I really think Thanksgiving should be a three day event. Day one should be the turkey and maybe appetizers. Then day two could be the side dishes, followed by day three…desserts. Maybe there should be day four- Alka seltzer day.
Anyway, check out these recipes. Let me know what you are making because I am in a quandary and I only have 10 pie pans… I guess I could go buy more pie pans…
Custard recipes do not freeze. You could freeze any of the purely fruit ones either baked or unbaked. You could freeze crusts. But do not, I repeat do NOT freeze the cream or custard pies!
image: Nestle
1. The first one is a must in our family. It is so classic that I can't imagine not having it. Yep, I am talking about the original Libby's Pumpkin Pie recipe. It is easy, it is good, and there's even a step by step video to go with it.
2. Gingered Apple Pie with Cider Bourbon Sauce is bound to amaze people with your baking skills. It is buttery and incredible served warm with the warm sauce.
Image: Allrecipes
3. Sweet Potato Pie is a southern favorite this time of year. This one is especially good. I suggest that you bake the sweet potatoes rather than boil them for the filling, as baking intensifies the flavor and sweetness alot and gives you a fluffier texture. Just bake them at 375 for an hour (or until done, be sure to put them on a cookie sheet because the sugars will drip and make a mess..ask me how I know). Cool them and scoop out the flesh.
4. This is my oldest daughter's favorite. She absolutely does not think it is Thanksgiving without the Pecan Pie. One small hint: When you make a pecan pie take a few minutes to lightly toast the pecans (and let them cool) before adding them to the recipe. This brings out the flavor of the pecans.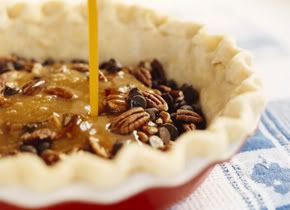 Image: Chow
5. Chocolate Bourbon Pecan Pie from Charlie Palmer ( I found it on CHOW), why not use up the leftover bourbon from the apple pie above? Don;t you want to lick the screen right now?
6. Dihvya at Culinary Bazaar made a luscious Cranberry Apple Pie . It was different than I expected, using raisins and walnuts with the apples and cranberries but absolutely fabulous!
7. I can only say "yum" to Spiced Pumpkin Pudding Pie at Serious Eats. Seriously.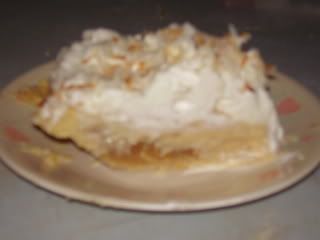 8. This Coconut Praline Pie is still one of my personal favorites. People who don't even LIKE coconut like this one. I have really gotten much better at picture taking I see!

Image by jo_jo_ba, Group Recipes
9. These Mincemeat Tarts are exactly what I like in mincemeat, a little kick to them from the cayenne pepper. I like to add dried chipotle granules instead of cayenne, because I like the slow, smoky heat that it adds.
10. This may be cheating a bit..but here are 51, yes 51 Apple Pie Recipes from Deb at Simply Thrifty. Knock yourself out. 🙂
11. Follador at Non Sequitur created this poached pear 7 pumpkin pie that sounded amazing. Black peppercorns and Pinot Noir are a brilliant touch.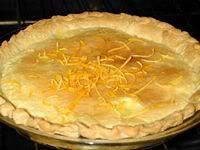 Image: Out of the Frying Pan
12. Out of the Frying Pan has this amazing Chess Pie recipe from James Beard. It has some lemon in it, which is very traditional but i was intrigued by the use of a little orange as well.
13. Oh my goodness. Pumpkin Ice Cream Pie. This is the most amazing recipe and it is great because you can make it ahead and freeze. It has Heath Bars chopped up in it. The only change I suggest is to use a pecan praline or butter brickle ice cream instead of vanilla.
14. This is the best French Silk Pie on the planet. Maybe in the whole known universe. It is the only one I make. Ever. I use the filling for my Buche de Noel, for tortes, and many other things. It always comes out perfect. Always.
15. If you are from the south you know that Banana Pudding should be served as a side dish with every meal. Thanksgiving is no exception. This is a delightful Banana Pudding Pie.
16. Caramel Pecan Topped Pumpkin Pie from Razzledazzle Recipes is perfect. Just perfect.
17. Epicurious is one of those sites for me that's dangerous. I could spend all day there and an entire year's pay on the ingredients to try each one of them one by one. Check out this Brandied Pumpkin Pie. I could go for that right now. The entire thing.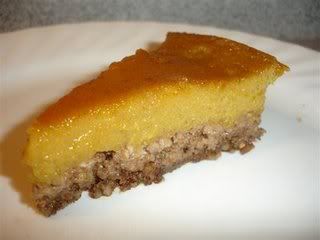 Image: Something in Season
18. I love Brendan's blog, Something In Season. I really support cooking in season, with local ingredients as much as possible, and his recipes most often involve doing just that. They are also beautifully photographed and gluten- free. This Gluten Free Pumpkin Pie looks wonderful.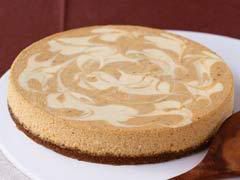 Image: Kraft Foods
19. Pumpkin Swirl Cheesecake is rich and delicious. Be sure to beat the ingredients on low speed and don't incorporate too much air for the best, densest cheesecake ever.
20. My friend Inge, from Vanielje Kitchen has this wonderful recipe for Mincemeat. It makes alot but after you taste it you will absolutely need alot..the only addition I can suggest, once again, is a tablespoon or so of dried chipotle granules to add a seductive, smoky, spicy heat.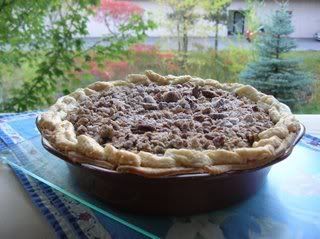 Image: More Than Burnt Toast
21. Valli, from More than Burnt Toast, celebrated Thanksgiving last month since Canadians can't wait until the proper time (grin) and posted this amazing DROOLWORTHY Cinnamon Streusel Topped Pumpkin Pie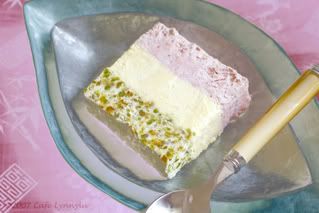 Image:Cafe Lynnylu
22. Okay, this is not exactly a pie. Well, it is not at all a pie. But, this is my blog and I will do what I want, okay?
Seriously, this Pistachio, Mango and Blood Orange Terrine from Lynn at Cafe Lynnylu was so amazing I wanted to add it just for the sheer beauty of having it on this page. It is going to be on our Thanksgiving table..I am thinking I can convince my family it is a salad.
23. Start a new tradition this year with this Cranberry White Chocolate Tart. I love the combination in cookies and this looks amazing.
24. Another variation on the pumpkin/sweet potato pie theme. This Butternut Squash Pie has a little maple syrup added.
25. Vermont Maple Sugar Pie, if you hurry, you can order the maple sugar before Thanksgiving.
There it is. 25 of the most irresistible pies on the planet. But that's only pie. Check back because you know, there are other desserts for Thanksgiving.