Shopping Guide: Jewelry & Beauty Products Inspired By Medicine And Illicit Drugs
By
|
Pill heads and syringes and bad doctors, oh my.
The medical world and all its accoutrements are more nuanced than an oath and magic-healing tonics and tablets. Like anything else, there is both evil and good and that space between the poles. Hospitals are full of Nurse Ratchets and Dr. Houses and Dr. Mindy Lahiris. There are good doctors and bad doctors, good treatments and bad treatments, good pills and bad pills, good pills used for bad reasons and pills used for partying. Doctors can help people with substance abuse problems, but they can also create those problems or be afflicted themselves.
Here are products and bits and bobs inspired by the subtleties of the medical world and its intersection with the party world, in sickness and in health, by both prescription drugs and illicit substances:
Hospital Bracelet– It's like the kind you get when you're admitted for whatever reason, only luxurious. Is this bracelet offensive or not? I can't tell because I love it and I want one. 
$187 via Cast of Vices
Cargo Essential Lip Color in Bordeaux– A little red wine can allegedly extend and improve lives due to all those antioxidants and resveratrol and what not. Red wine can also get you wasted. Paint your mouth with it's powerful color. 
$22 via Dermstore 
Syringe Necklace– If you're into health this can remind you of medicine, if you're into rock n roll, this can remind you of illicit drug use.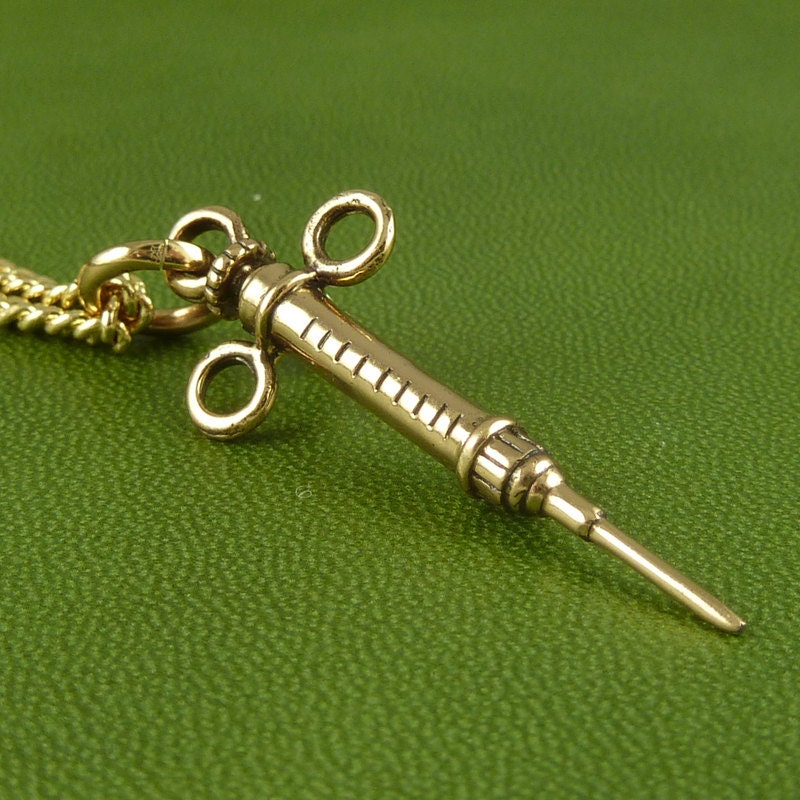 Mario Badescu Special Healing Powder-Doesn't the very name of the product make you think it's a very special tincture from a magic man in an apothecary, or like a real doctor with a prescription pad. The magic healing powder is dirt cheap, lasts forever, and works wonders on skin.  
$12 via Mario Badescu
Hot Toddy Nail Polish– Hot Toddies can help alleviate symptoms of a common cold and help you go to bed at night. It's medicine and fun on a dreary day. This nail polish is inspired by the drink, check out Scotch Naturals' whole line of polishes inspired by booze (they're eco friendly and non toxic, so totally on that health tip).
Xanax Bar Pendent Necklace– I'll be honest with you, I've had my eye on this for years. Xanax (aka alprazolam) bars are powerful doses of the fast acting benzodiazepine that's used to help severe anxiety and also used to party severely. 
$176 via Ahalife
Extra Honey Beer Shampoo Bar– I've been desperate to try this shampoo bar out. I've used beer on my hair before and it's a delightful rinse both in and outside the body. Beer and honey both have health and good time properties. Once I run out of my grody shampoo and try the "no poo" or "low poo" methods, I'm so going to lather my scalp up with this natural shampoo bar instead of sudsing my head with creepy sulfates. 
Yves Saint Laurent Opium Body Oil– The fragrance has a cult following for a reason. It's such a seductive scent, it probably has addictive and magical properties like the old time drug. To up the health aspect, we chose to include the body oil, for supple flesh. 
$55 via Yves Saint Laurent
White Coat– A white coat like this can help you play doctor and patient. Obviously any white coat will give off medical professional vibes but this particular fuzzy coat looks very 70s groupie and 90s junkie at the same time. 
$158 via TopShop
Ed note: Blisstree in no way endorses or celebrates drug abuse. 
Image via Valley of the Dolls (1967)