10 Recipes That Take Your Love For Girl Scout Cookies To The Next Level
By
|
The Girl Scouts are adorable little business people, but they are also diabolical geniuses in khaki sashes without whom the following 10 recipes would never be conceived. If you love Girl Scout cookies (and you definitely do), then you'll love these too good to be true recipes:
1) Thin Mint Truffles via The Recipe Critic 
I thought thin mints were perfect, then someone mixed them with cream cheese and chocolate and proved me wrong.
2) Girl Scout Cookie Milkshakes via Home Based Mom
If a fast food restaurant sold these, I'd probably be cranky, but something about putting cookies in a blender at home on a special occasion seems really fun.
3) Girl Scout Cookie Mini Cheesecakes via Sugar Derby
When I saw these, I told my computer to "shut up." Why didn't I think of miniaturizing cheesecake before?
4) Girl Scout Cream Puff Cookie Monsters via A Bitter Sweet Wife
These cookies are eating other cookies. It's meta.
5) Samoa Bread Pudding via La Jolla Mom
Here's a fact: the inventor of the Samoa was robbed if they didn't win a nobel prize.
6) Girl Scout Cookie Fudge via Dine & Dish 
Someone find me a girl scout–I have important baking to do.
7) Thin Mint Gooey Cake Bars via Picky Palate 
When it comes to desserts, "gooey" indicates deliciousness.
8) Salted Brown Butter Crispy Bars with Samoas via Making Michael Pollan Proud
It's a little surprising that none of the cookies in the Girl Scout repertoire feature marshmallows.
9) Tagalong Peanut Butter Parfaits via My Baking Addiction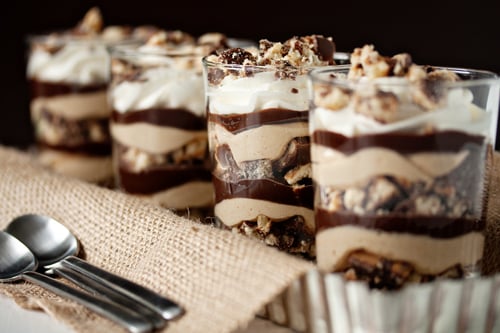 Reprinting three words without comment: peanut butter mousse.
10) Samoa Bundt Cake via Betsy Life via Breakfast to Bed
It looks like a giant samoa! So clever!
I'm going to go harass my friends with baking equipment about some of these. If you know any Girl Scouts in Brooklyn that can sell me all of their cookies, it's an emergency.
Images via Pinterest & Shutterstock