5 Magical Ways To Eat Fiddlehead Ferns This Spring
By
|
Fiddlehead ferns are those magical looking green coils you've probably seen at the grocery store or your local farmer's market. If you haven't tried them already, I suggest you run out to get some as soon as you decide how you're going to use them. They're in season, they're beautiful and they're packed with fiber and vitamins. Fiddlehead ferns are also beyond delicious and a whimsical addition to any plate.
Here are 5 recipes that use fiddlehead ferns, so you can bring a little fantasy to your dinner table:
1) Dan Kluger's Roasted Fiddlehead Ferns.
This recipe is so simple, it will really let the flavor of those furled little ferns sing. via Kate Uhry Photography 
2) Fiddlehead Pasta with Lemon Butter Sauce.
I bet adding these curly greens to yummy pasta is a good way to get little ones to eat vegetables. via Fat of the Land 
3) Fiddlehead Ferns & Mushrooms. 
I'm not the biggest fan of mushrooms, but even I know that this is a dish fit for a fairy queen. via Bon' App
4) Fiddlehead Fern and Artichoke Freekah Salad.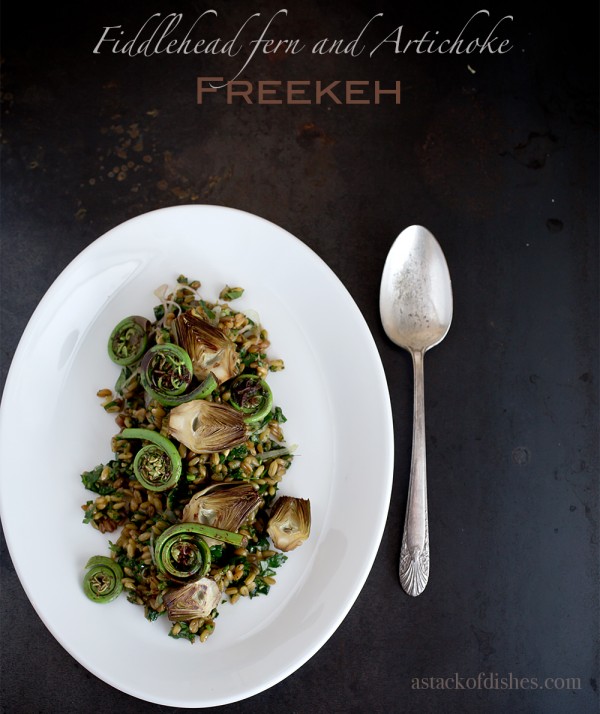 Freekah, artichoke AND fiddlehead ferns? This dish will please foodies and health-nuts alike. via A Stack of Dishes 
5) Spring Lemon Risotto with Asparagus and Fiddlehead Ferns.
No joke, I'm getting the ingredients after work so I can make this tonight. I'll let you know if the textures and flavors are as divine as they seem. via Kitchn
Images via Pinterest