Christmas Countdown: The 40 Best Cookie Recipes for Shipping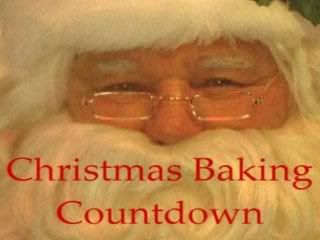 Today is the last day to ship packages overseas by parcel post. December 11 is the deadline for sending packages overseas by priority. Hopefully if you are planning to send cookies to loved ones far away you are planning on sending them priority anyway. Some cookies seem to keep well and arrive intact while others seem to fall apart the minute they are stamped with the postal stamp. If you are sending cookies the ones from this list, if packed properly, will work.
1. Molasses Crinkles are moist so they don't crumble, and the molasses helps them stay fresh a long time.
2.Ranger Cookies
filled with good things like coconut, oatmeal and pecans are festive sprinkled with colored sugar crystals
3. White Chocolate Macadamia Cookies stay moist and delicious.
4. Any kind of biscotti will keep wonderfully for a very long time but why not send a taste of the holidays with these Pumpkin Pie Biscotti?
5. Chocolate Pixie cookies are an old standby in Christmas packages
6. Brown Eyed Susans can be made with frosting or a Hershey's Kiss.
7.If you can't find the raspberry chips use dark chocolate in these Chocolate Chip cookies
8. Holly Hermits stay moist because of the candied fruit.
9. Amazing Rum Bars are festive and keep well.
10. My mother in law made these Cranberry Cookies every year for my husband. They travel well, I know this from experience!
11. Peanut Butter Kisses …yum! Use Hershey's Hugs for a different look.
12. Rich, buttery Checkerboard cookies keep exceptionally well if packed carefully.
13. My son in law loves these Double Chocolate Toffee cookies and I have mailed them to him successfully.
14. Quaker Famous Oatmeal cookies stay moist and chewy. Another traditional cookie for mailing.
15. Caramel Brownies are perfect.
16. Oh Henry Bars have been being shipped to loved ones "over there" for decades.
17. I suggest these Espresso & Cream Brownies with one caveat. Leave the frosting off, and add white chocolate chips to the batter for the best results.
18. Rice Krispie Treats are just fun. You can color the marshmallow green and make them into wreaths…Or leave them in bars. These are different because they are Peanut Butter Rice Krispie Treats
19. Toffee Pecan Blondies are another delicious bar cookie that will travel well.
20. Alot of people really love the Neiman Marcus Cookie. Personally, I think it is o.k. It travels well and the bit of coffee flavor adds a nice touch.
21. Mmmm..Chocolate Peppermint Slices are festive and delicious.
22. Mexican Wedding cakes look delicate but aren't. They are beautiful as part of a cookie assortment.
23.Spicy Speculaas are a traditional Christmas favorite.
24. Butterfinger Cookies with chopped up butterfingers bars. I have to tell you..I love these.
25. Eggnog Sparkle Cookies. Doesn't the name just make you think of Currier and Ives Christmas Cards and Hallmark Made for T.V. Tear Jerkers? Yeah. Me too.
26. Cuccidati are Italian date and fig cookies, something like fig newtons.
27. Cherry Christmas Slices. For a really festive cookie use both the red and green cherries in these.
28. Surprise them when they bite into these luscious Chocolate Caramel Filled cookies
29. Christmas Cornflake Wreaths are a no bake cookie that kids will have fun making.
30. Because of the way these are made and shaped, these Cinnamon Sugar Cookies will not crumble during shipping.
31. Lebkuchen
32. Surely I don't have to say this twice. Oreo Crunch Brownies
33. Can anyone resist M &M cookies?
35. Cranberry, Orange, and Dark Chocolate cookies.  Add some pistachios and they will be perfect.
36. Chocolate Florentines. Bakery perfect with homemade flavor.
37. Caramel Rum Spice Blondies. Mmmm..tastes like hot buttered rum. Sort of.
38. Add some zest to your Holiday with Lime Pistachio Cookies.
40. Rocky Road brownies are dense and chocolate. They do travel well. For a more Holiday appearance try using the pink and green marshmallows rather than just white.
Basically any sturdy cookie will travel well. Usually sugar cookies are too delicate. Bar cookies are great if they are moist enough. Dried fruit adds moistness and helps cookies stay fresh.
Be sure and package flavors in different packaging. The more delicate cookies can take on the flavors of the spicy types, or anise types, if you are not careful.
This tutorial on how to ship food items is fantastic!
These shipping and packing instructions are shorter and to the point.
So, what are you waiting for. You don't have much time left!