Star Jones Admits to Gastric Bypass, Everyone Shocked (that it took this long)
By
|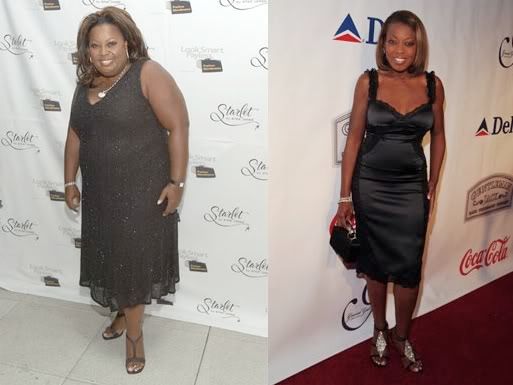 It's official: Star Jones finally comes out (someone in that marriage has to). We now learn that her ambiguous reference to a "medical intervention" during her 160-pound weight loss translates to gastric! bypass! surgery! She admits to fearing public criticism if she came clean about how she lost the weight blah blah blah spin oh the dizziness…
Good for her for losing weight the easy way. That takes real courage. I personally prefer the Posh Spice diet.
I'm kidding, I'm kidding! While most experts would reasonably advocate exercise and caloric restriction over something as drastic as surgery, and I don't think you have to be a genius to agree, I'm glad Star lost the weight. Frankly, I don't see what the fuss is about and debating this is what Star's flacks want. I highly doubt that she was hiding her "secret" out of fear of public backlash. She's no spring chicken, that Star: clearly she waited until now to "reveal" the truth in order to maximize publicity. I'm cool with that, and I don't feel any great sense of gaping betrayal because Star didn't acknowledge what everyone knew she did anyway. Star is not responsible for the status of anyone's waistline but her own. She's under no obligation to be a role model. But then, I don't believe in role models. Be your own role model.
But maybe the critics are just jealous of that stallion of hers.