Star Magazine Is Claiming Kate Middleton Pregnant With Her Third Child… Pass The Grain Of Salt
By
|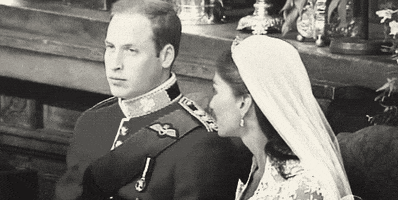 Because the world can't help but comment on the state of Kate Middleton's womb, we're hearing rumors that Kate is pregnant with her third child after giving birth to Charlotte back in May.
Take this with a very large grain of salt given the source, but Star Magazine has a source claiming that Kate hasn't been seen at any public engagements this summer because "she's in the early stages of pregnancy with baby number 3" and "she's not taking any chances" due to her famous struggles with severe morning sickness early in her pregnancies.
Kate was noticeably absent from Prince William's side at a royal family wedding on August 15th and the magazine says the Queen has given her blessing for Kate to take it easy (well thank goodness for that!). "Kate has the Queen's blessing to forgo royal duties for at least two months, until she overcomes the treat of sickness."
The source says that Kate is supposedly due in "late April or early May, so she'll likely be showing by the New Year. She knows the paparazzi will try everything to get the first photos of her bulging swimsuit — that's why she wanted to take an earlier vacation. She figures her bump won't be prominent in Nov., so she can relax in her bikini without her pregnancy being so obvious." Umm.. alright…
No idea how true this story is, but theDaily Mail seems to think Kate's absence from the public eye was merely to take a four-month maternity leave to be with George and Charlotte for the summer, and that she'll return to limited royal duties and appearances (whatever those are!) this month.
Are you ready for round three of Royal Baby Fever? Or are you sick to death of hearing about it?
(GIF: Giphy)