True Love Is Dead: Avril Lavigne Is Separating From Chad Kroeger
By
|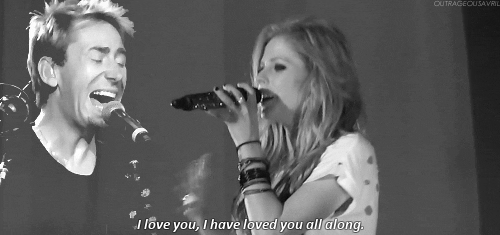 (via)
YOU GUYS. As if all the celebrity breakups this summer haven't yet convinced you that true love is dead, the latest couple to announce their separation is Chad Kroeger and Avril Lavigne.
The frosted blonde pair (and Canadian royalty, obviously) have been married for two years and gave all of our 2002 selves hope that the unique bond of bad music and Canada could make an everlasting love story, but alas, it appears it could not.
Just last year, for their one-year wedding anniversary, the Nickelback frontman gifted his wifey with a 17-carat ring (my god, are there that many Nickelback fans in the world? Actually, don't answer that. I don't think I want to know.) and Avril has recently been on somewhat of a life comeback from a debilitating case of Lyme disease, which it is rumored she is still battling.
The couple has been plagued by breakup rumors for about a year, and I personally found it odd when she discussed her battle with Lyme with People in April and the article said, "her mom moved in to help take care of her, while her husband stepped in when he could during breaks in his tour with Nickelback."
Not for nothing, but if you're rich enough that you can buy your wife a 17-carat diamond ring, can't you step up a bit more for your extremely ill wife to help care for her? That, to me, was Exhibit A that something wasn't right in this Canadian paradise.
Anyway, Avril announced the separation with an Instagram post from their wedding day where they look all happy and shit (umm.. okay..) and discussed the split in her caption:
Of course, the world will never get to see what kind of emo, tie-wearing, soft rock, Hello Kitty-obsessed children Avril and Chad would've had, and for that, we're sad (lol). But seriously, no snark when I say that I hope Avril is alright. She's had a rough go lately, and I know firsthand how debilitating Lyme disease can be, and I, for one, am sending her good vibes through what must be an awful time. Here's hoping she'll someday find her true Punk Rock Prince. If not, at least she can join Taylor Swift's squad.
(Image: Daily Mail)