Be Still My Heart — The Catalina Wine Mixer Is Now A Real Thing
By
|
OMG. It's the fucking Catalina Wine Mixer. If you haven't seen the movie Step Brothers, you should basically be shamed out of the country (just kidding, but seriously, this movie is ALWAYS on Comedy Central so get your shit together). And now, it's a REAL THING.
I've never wished more in my life that I lived in California than I do right now, because some genius human being decided that the Catalina Wine Mixer should be a real event and it's taking place this Sunday, September 13th at Descanso Beach Club on Catalina Island.
General Admission tickets to the event are a bargain at $35 for adults and $20 for children (side note: you win Parent of the Year award if you take your kids to the fucking Catalina Wine Mixer!) and that includes a souvenir wine glass (which hopefully has Will Ferrell's face on it) and all day access to the mixer. VIP tickets are sadly sold out, California friends. You can rent a cabana for the event with plenty of room for activities, and boat service is provided to the island (perfect for ALL the hoes.)
There's going to be a helicopter landing and The Dan Band is performing, hopefully strictly '80s Billy Joel jams. No idea if there will be a cameo performance by Prestige Worldwide, but we can all hope. A chance to hear the legendary voice of a mix between Fergie and Jesus?! That is a once in a lifetime event not to be missed.
Seriously, if you live within a 500 mile radius of Catalina Island and DON'T go to this, I'm going to take a pillowcase and fill it full of bars of soap and beat the shit out of you.. kidding. Sort of.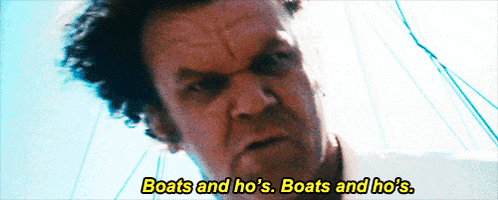 (GIFS: Giphy)