Alert The Presses: We Have More Spice Girls Reunion News
By
|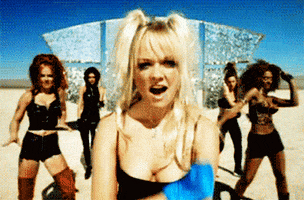 GUYS. I know I've said this before, but anytime there's talk of a Spice Girls reunion, I completely lose my shit. I would see them on tour even if they came out wearing huge trash bags, did one song, and walked off. I will see them when they're 85 years old, when the tour is sponsored by Metamucil. They are my EVERYTHING.
Last month, Mel B (Scary Spice) toyed with our emotions by saying that she's definitely in for a reunion in honor of the 20th anniversary of Wannabe which is next year (I feel so old now.)
But now, we have confirmation that a second Spice is IN and I am thrilled. People caught up with Emma Bunton (Baby) and her adorable family and asked her the question that's on all of our minds.
"I'd love to! We all talk about it — it would be great fun, wouldn't it? We got to celebrate somehow."
Yes, Emma, yes, you do. So now that's two out of five Spice Girls in for the reunion. Mel C? Geri? VICTORIA?! My obvious main concern is Posh since she seems to never really want to be a part of these things but PLEASE. I'm begging you, girl. Make my dreams come true again! The world needs to "zig a zig ah" right now. You can make it happen!
(GIF: Giphy)