Showgirls Turns 20 And We're Still Obsessed With It
By
|
It's hard to believe, but today is the 20th anniversary of the release of the greatest movie of all time, the one that deserved all the Oscars and Golden Globes and, hell, even an honorary Tony award or something, but got slighted with a few Razzies. Of course I'm talking about Showgirls. What other cinematic masterpiece even IS there worth mentioning?!
Note that this post will have some NSFW moments, so if you're reading this while "working on that budget presentation" at your desk, I wouldn't.
Here are just some of the many reasons why Showgirls is the best movie of all time:
Nomi Malone is the feminist icon of a generation.
She's not a stripper, she's a DANCER.
Nomi is also incredibly fierce.
She smized (while licking a pole, which is totally unhygienic but whatevs) way before it was even a thing.
In fact, Nomi isn't someone you fuck with. At all.
But she sure is loyal to her friends.
It taught us all the importance of nailing your signature look.
And had some ultra glamorous nail art before Pinterest even existed.
Here's more:

We could all relate to how annoying a dance coach is.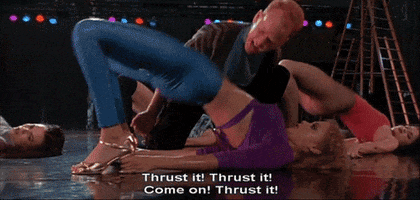 Or, you know, how bad we feel for the contestants on The Biggest Loser while going HAM on some popcorn and wine.
It taught us how important self-defense really is.
And to ALWAYS watch our backs.
There's always someone younger and hungrier coming down the stairs after you.
The dance scenes are elaborate and exquisite.
Nomi clearly aces her physicals every year, cause girl is flexible AF.
She also goes after what she wants, which is a great lesson for all of us.
Shopping makes me this happy, too.
Especially at Versayce.
Glittery hair gel and crystals all over your face isn't just a great look for Vegas.
Def gonna rock something similar this weekend, thanks Nomi.
And, of course, jazz hands. A movie with jazz hands is perfection in my book.
So in honor of its 20th birthday (finally, next year Showgirls can drink in Vegas!) I'm going to have some brown rice and vegetables for lunch and head to the Stardust, darlin'.