Rebel Wilson Walking In Heels Is Actually Me Walking In Heels
By
|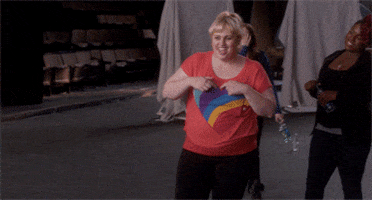 Rebel Wilson stopped by The Ellen DeGeneres Show to promote her new fashion line with Torrid and she admitted that she's not great at everything. Rebel said she's not good at running, making healthy choices at restaurants, and walking in heels. Those are basically the three things I'm WORST at in the world, so I think we're the same person. I've always said if you see me running, you should run too, because someone is chasing me. And seriously, no matter how many times I tell myself I'm going to order a salad, the words "avocado cheeseburger with fries" always SLIP right outta my mouth and into the ears of my kind waiter. I don't even understand how that happens!
Ellen wanted to put Rebel to the test on her inability to walk in heels, so she naturally set up an obstacle course for her to attempt in under 60 seconds, in some sky high heels, with a martini in hand. If she could do it, she'd get $10,000 for the charity of her choosing.
Rebel proves that despite being a major Hollywood star turned fashion designer, she really isn't good at walking in heels, and basically she's me every time I attempt to wear heels. I have never understood how people look graceful in stilettos. Most ladies look effortless and model-esque and I look like a baby duck trying to learn how to walk. It's not cute. Someone, please help me. I have too many cute pairs collecting dust in my closet for this kind of tragedy.
(GIF: Giphy)