Thank Goodness Mel B Is In For A Spice Girls Reunion Because It Wouldn't Be Girl Power Without Her
By
|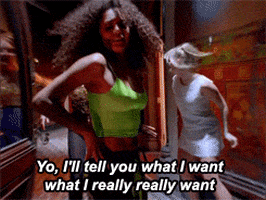 Next year marks the 20th anniversary of Wannabe by the Spice Girls and so of course people are dying to know if there will be an official reunion to mark the celebration.
People caught up with Mel B (aka Scary Spice) last night at the Essence Street Style Awards during New York Fashion Week and asked her if a reunion is in the works. She said:
"I am hoping so! It's our 20th anniversary next year, so – once we decide, and get things going – then I'll be the first one yelling it from the rooftops!"
The group has reunited a few times since their devastating split in 2000, most notably during a 2007 reunion tour and at the London Olympics' Closing Ceremony in 2012.
As someone who had floor seats to the 2007 reunion tour and still considers it one of the greatest days of my life, I am all for this reunion news. However, it's rumored that Victoria Beckham is NOT planning on returning, and I'm not sure how I feel about seeing the Girls without Posh. Sure, she's not much of a singer OR a dancer, but she's Posh. They've tried to have success without all of the original five and it was a sad, dark time in entertainment history.
Mel did tweet that rumors of a rift between Victoria and the other girls are "utter bullshit" so maybe there's hope. Please, Mel, don't toy with our hearts! I'll be there with my highest platforms on, waiting to see if you've since discovered the joys of a bra with your lime green tank top!
(GIF: Giphy)