Hillary Clinton Thinks Kim Kardashian Is Aspirational And Inspirational, Cue Nationwide Eye Roll
By
|
I got my selfie!!! I really loved hearing her speak & hearing her goals for our country! #HillaryForPresident pic.twitter.com/zGpdcGSZBD

— Kim Kardashian West (@KimKardashian) August 7, 2015
Hillary Clinton, Democratic presidential front runner, was interviewed by AC Slater, and asked her about what she thinks of Kim Kardashian. Just let that sentence sink in for a second.
Okay, now that we're back, AC Slater Mario Lopez interviewed Hillary for Extra and asked her about a few different topics, including Donald Trump, why she's the best choice for President, and, of course, the time she met (and took a selfie with) Kim Kardashian and Kanye West.
Ever the diplomat, Hillary had this to say:
"You know, I just met her for the first time. She came to one of my fundraisers in Los Angeles, and I really enjoyed meeting her; I really found her to be warm and very personable. She had a nice way of introducing her husband, as if I didn't know who he was, right, and I enjoy seeing her with her daughter. So I think all of us in our own ways can be inspirational or aspirational for people… and I certainly think many people see her as someone who gets up every day and tries to figure out how to make that day successful."
When asked about Kanye West's announcement that he was running for president in 2020, Hillary offered this:
"Well, if I'm going for my second term, [I would ask him] to wait four years, but if I'm not… be sure he has comfortable shoes because there's a lot of walking involved."
Here's hoping those Nike Air Yeezys are comfortable.
Hillary is a champ. I know the interview was for an entertainment show, so it's natural that the questions would be skewed in that direction, but it has to be slightly nauseating for her to even have to comment on those buffoons, let alone pose for pictures and interact with them. But you'd never know it based on how gracefully she answered those questions.
I also have to say that the fact that Kim Kardashian, who built an entire career upon being in a sex tape with a d-list rapper, is taking "selfies" and being discussed in an interview with the country's potential first female president (who has a stunningly long list of accomplishments and accolades), says that the United States, as a whole, is either the greatest country ever, or we're completely fucked. Add to the fact that said presidential candidate is being interviewed by a teen star turned TV correspondent. I can't really figure it out.
I'm going to a Saved by the Bell trivia night tonight so I've been watching a whole lot of episodes so that my team, The Stansbury Reps, wins, so forgive me for mocking Mario. I'm actually totally impressed by the career he's carved out for himself, given that this is something that exists of him on the Internet: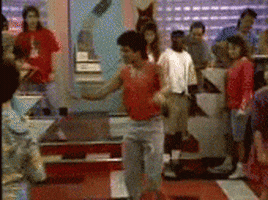 And this.
Mario, you're the true MVP here.
(GIFs: Giphy)