James Van Der Beek Reminds Us All How Awesome He Is When He's Not Ugly Crying
By
|
Because the Internet loves to make funny things go viral, James Van Der Beek has gone from being a teen star of the past to beloved Internet meme due to a scene from the show he starred in way back in the '90s, Dawson's Creek (don't act like you haven't watched it on Netflix for "nostalgia's sake", I know you have), in which he has a particularly ugly crying face over being dumped by that bitch Joey. Yes, you know the one: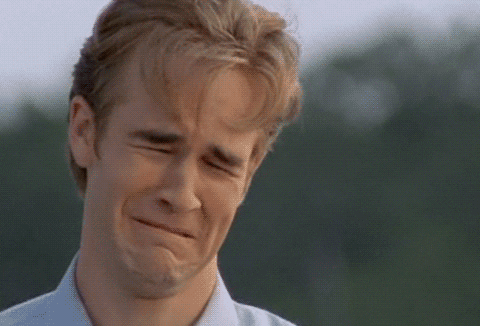 Back in 2011, James even had a Funny or Die video in which he said he was going to start a website for all your meme needs (including a Lindsay Lohan eyeroll meme ..how beautiful.) The site was called //jamesvandermemes.com and when you go to it now, there's nothing there (womp.).
So now, because the Internet doesn't let anything die, it appears that James and his wife stumbled upon this glorious image as a bumper sticker on a random car while they were out driving around.
James, this is an open letter to pay the site's host and re-launch it. In 2015, Vandermemes is still everything we need. Also, I don't really think Joey was a bitch and I was happy she ended up with Pacey. That Dawson was such a fucking cry baby.
(GIF: Giphy)