I'm So Excited! I'm So Scared! It's Been 25 Years Since Jessie Spano Was Addicted To Caffeine Pills
By
|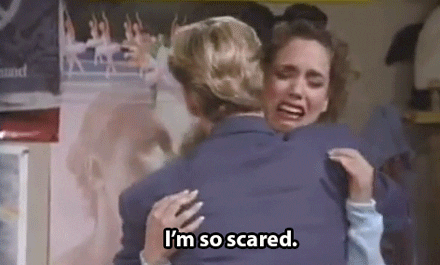 It's no secret: Saved by the Bell is my all-time favorite TV show. Seriously. I've gone to multiple SBTB trivia nights, I proudly wear my Bayside tigers sweatshirt most lazy Sundays, and I take fierce pride in my ability to know which episode is on based on the first 10 seconds I see. I have a board game and used to have a Kelly Kapowski Barbie doll and feel intense shame that I have no idea where she ended up (RIP Kelly doll!). It's the only show I literally never get sick of watching. Hell, I spent two hours watching it just this past Sunday and it was pure (Miss) bliss.. see what I did there? Hand to heart, I knew that my husband was the ONE when we determined we both were equally as obsessed with it. We spent our earliest first dates watching the DVDs and laughing hysterically… something that we still regularly do, nearly 10 years later. It's our jam.
My favorite episode of the show aired 25 years ago today, and it's probably the one that most people know the show by, even still. Called Jessie's Song, it's the one where overachiever Jessie Spano becomes addicted to (gasp!) caffeine pills. It starts by a need to drink coffee to study for exams, and rapidly turns into a full-blown addiction to the pills. Most people now (and probably back in 1990) laugh about the fact that the big drug abuse issue is caffeine given the much harder drugs that teens dabble with, but the family-friendly, fluffy show was lauded for tackling it in such a delicate way.
Sure, it's soapy and it's sappy, and we all know that drug addiction can't neatly be tied up in a 22-minute long teen sitcom episode, but it definitely tackles things that all teens can relate to: the pressure to be perfect and get good grades, and the pressure of being spread too thin, from school work, to college applications, to singing in a band called Hot Sundae (oookay, maybe the last one is a bit of a stretch). We've all been there, and most of us are STILL there, because when you grow up, the pressure of real life only grows tenfold.
So today, I'll watch Jessie's Song in honor of the episode's 25th anniversary. It's on Netflix, so you should, too. I'm so excited! I'm so excited! I'm so… scared! (Sorry, had to!)
(GIF: Giphy)