I Checked Out Grandfathered, AKA An Excuse To Ogle John Stamos For 30 Minutes A Week
By
|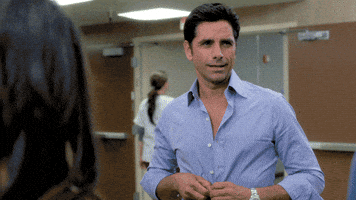 Like I said last week when I reviewed the pilot episode of Scream Queens, I am not a TV person. And I'm especially not a sitcom person. I know, I promise I'm not un-American or something. I just hate the canned humor and annoying over-acting, as well as silly plot lines that most sitcoms thrive off of. But if you're thinking my TV tastes are just too pretentious, well, you should know that I regularly watch Say Yes to the Dress and basically any show about pizza on the Travel Channel, so I assure you, I love crappy TV as much as we all do.
The only sitcoms I do watch religiously and regularly aired about 20 years ago and they're as campy and cheesy as they come. I'm still and always will be a die-hard fan of Full House and Saved by the Bell, to the point where I own all box sets on DVD (in Full House's case, two box sets, but I only purchased one myself — I swear) and still find myself ready and thrilled to plop on the couch after a long day with my favorite sappy TV family or geeky Bayside High crew. Thankfully I married someone who shares the same enthusiasm for late 80s sitcoms as me, so our home is a peaceful and happy one.
That being said, I decided to give John Stamos's new project, Grandfathered, a shot, because I thought the concept was cute and I don't think anyone on the planet is gonna argue with the fact that John Stamos is hot. Stamos is really, really good looking. He also seems well-adjusted and funny and self-aware of the fact that most people will only ever see him as the guy from Full House with the good hair and I dig that kind of self-deprecation. Is he the best actor of our time? Of course not. But he knows that. And that adds to his appeal.
I also really, really like Josh Peck who is one of the funniest guys on social media (I swear, follow him on Twitter and you'll understand my crush) so I was like, alright, let's give this show a shot. I'll try not to give too much away if you plan to watch.
The show lays all its cards out right away — Stamos plays Jimmy, a suave restaurant owner who adores nothing more than schmoozing his patrons and calling the shots. He's a man of simple taste, really — he loves women and makes no apologies for it. It's not exactly a stretch for John to play this character, I'm sure, but he sure seems like he's having fun at it.
About three minutes in, his world is flipped upside down when a twenty-something named Gerald tells Jimmy that not only is he a father, but he's also a grandfather, to an absolutely adorable baby named Edie. If the cute humor between Josh and John wasn't enough to keep me hooked, watching Edie is, which I suspect is the reason most people watched Full House back in the day. A cute baby is IMPOSSIBLE not to love.
Jimmy is basically an Uncle Jesse 2.0 and the show seems predictable — there's nothing revolutionary or ground-breaking here, guys. But the cast seems genuinely likable and the show is good, fluffy fun. It's fast-paced and light-hearted and I'm truly embarrassed to admit that watching a current-day John Stamos play with a baby literally caused my ovaries to melt inside me (sorry for the gross visual). The show is John Stamos porn through and through, and it knows it. Gerald's baby mama (an interesting casting choice in Christina Milian) makes note of this a few times, citing "he's hot but he's old" and texting her friend that he's "such a Clooney."
But the fact that all the gimmicks (including a cameo by Bob Saget, of course) were laid out in the first episode was either a smart move to get people to tune in, or a dangerous sign that the show has nowhere to go from here. Only time will tell, but it's the first sitcom that I've found watchable in a loooong time, so I tip my hat to you, Stamos, and wish you the best of luck.
(GIF: Giphy)