On Homeland, The Best Way To Clean Up A Huge Mess Is To Play The Blame Game
By
|
So many characters and not enough buses to throw them under!  That's the theme Homeland has set up during its season three premiere, anyway.  When the going gets tough – and believe me, it's beyond tough for the CIA right now – the tough start blaming everyone around them.  Sound good?
Here's where we're at in the aftermath of "the biggest attack on America since 9/11": It's 58 days post-Langley attack and Brody is still at large, Carrie (Claire Danes) is off her meds because she thinks they cloud her judgement and on-the-job perception, Saul (Mandy Patinkin) is the acting deputy director of the CIA, the Brody family is suffering financially and personally – Dana (Morgan Saylor) has just been released from the hospital following a serious suicide attempt.  Oh, and Peter Quinn (Rupert Friend) is one of six CIA assassins on three different continents carrying out the murder of the upper echelon of Nazir's terrorist cohorts…all at the same time.  It sounds a lot more fast-paced and confusing than it really was.  I'm relieved the pace of the premiere was a little slower than usual; it was nice to process all of the changes in everyone's lives.
Now the CIA is under fire for completely lacking the intelligence in its own namesake by not preventing the bombing at Langley and must answer to a Congressional hearing committee for their errors.  We watch Carrie commit perjury at her hearing (Brody who? *blank stares*), while Saul totally throws Carrie under the bus and betrays her by deeming her "unstable" and letting the bipolar cat out of the bag. Saul and his new right-hand man, Dar Adal (F. Murray Abraham), are like the Regina George and Gretchen Weiners of Langley post-crisis.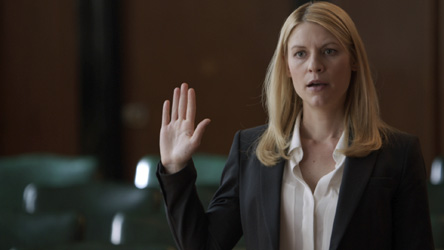 Basically, the attack at Langley boils down to: Dar Adal blames Carrie, Saul blames himself then publicly blames Carrie, Carrie totally blames Lithium, Congress blames Brody, and I blame Homeland writers for still making a 6'2″, post-adolescent Chris Brody pretend he's dimwitted child.
The two biggest story lines I'm interested in: Dana's post-suicide attempt recovery, and the new Carrie/Saul dynamic after his betrayal.  The conversation Dana overhears between her mom and grandma struck me as incredibly important – was it just a cry for attention?  The doctors didn't think so.  As one-note as I find Morgan Saylor's performance at times, it was impeccable during this episode.  And say what you will about Claire Danes "cry face" (it, too, is impeccable) and make as many GIFs as you must, internet, but nobody plays tortured like Claire Danes does (very convincing stairway sex, too, btw).  One week post-Emmy and she's still on fire!
(Photos: Showtime)