17 Unanswered Questions I Have About Hocus Pocus, In GIFs
By
|
(Via)
We all know that Hocus Pocus is best served with a dash of Sex and the City, but can it also accompany a side dish of skepticism? Eh, ignore my terrible metaphors and let's talk the tough stuff: confusion I have about everyone's favorite nostalgic Halloween movie.
Endlessly quotable, infinitely GIFable, hilariously mashable, excellent adaptable — Hocus Pocus is a beloved movie that the majority of us can agree is equal parts hilarious and hokey. But I have questions, guys. A lot of questions.
1. What kind of jerk parents force their kids to move across the country in the middle of the fall?
(Via)
Seriously, they didn't take curriculum, comfort and ease adjusting into consideration whatsoever?
2. Why did those same jerk parents leave their children alone to wander around a town they had never lived in prior? On Halloween.
(Via)
3. And what kind of douchebag asks out a girl in front of an entire class?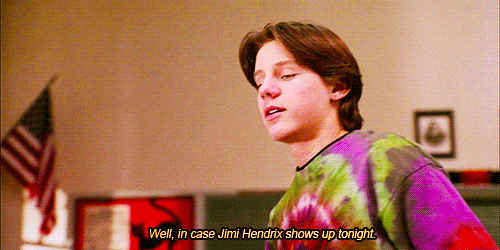 (Via)
(Probably the kind who needs more attention from his idiot parents.)
4. Does getting older give you facial hives and bleached eyebrows?
(Via)
5. Does Jay shave Ice's head?
(Via)
6. How does 10-year-old Dani know WTF a virgin is?
(Via)
7. Why didn't Max and Dani's parents listen to them? Sure, they didn't have to believe a story about witches, but when both your children — one of whom is well past the age of make believe — run all over town to find you and tell you're they're panicking, shouldn't that raise some red flags?
(Via)
8. Why didn't Binx talk when the kids try to tell their parents what was up? Instead of solving everything, dude was just like:
(Via)
9. And for that matter, why didn't he say anything when his dad was all, "AWAY BEAST"?
(Via)
10. Why were the witches freaking out about the road, which is only superficially different than roads in the 1600s, but pretty a-okay with buses?
(Via)
11. Do sports bras make flying on a broomstick more or less comfortable?
(Via)
12. Seriously, did their parents really not think twice about the whole "witches are trying to kill us" thing when three women jumped onstage and started singing about putting spells on people?
(Via)
13. Max was kind of a tool in the beginning of the movie, so why is Allison all down to crash at his house after knowing the guy for like 8 hours? I mean, after all, Max…
(Via)
14. Was Billy ever hot? I feel like Billy was hot.
(Via)
15. Then again, was I the only one weirdly okay with Winnifred being pissed at Billy rather than Sarah? Eh, it seemed a little less anti-"homewrecking whore" than most movies involving cheaters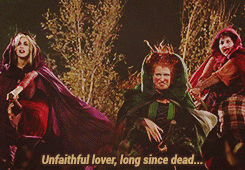 (Via)
(Note: Please don't bury your cheating exes alive.)
16. Who was this guy? And why was he comfortable asking random children and peculiarly invested local community theater actresses to come into his home?
(Via)
17. But perhaps most importantly, how did this guy:
(Via)
…wind up being this guy?
(Via)
All that said, I will definitely be watching this ridiculous movie once again at some point in the next 24 hours, if only to giggle about what I originally thought a virgin was.