Happy Valentines Day from Snarky Gossip!
By
|
I wish you much candy and smooching today. Let's get to the goss!
First, SQWEEEEEEEEEEEEEEEEEEEEEE!! It's Indiana Jones!!
The New Indiana Jones Movie Trailer
Holy Shiznit!And that's all I have to say about THAT.
Next, Jane Fonda said a VERY BAD WORD on the Today Show.
Jane Fonda Drops the C Word!
Oh, yeah.
Similar to Diane Keaton last month dropping the F bomb:
What's up with all these older actresses cussing on early morning TV? Personally, I am enjoying it; I think it's hilarious. However, I also think that dressing up my dog in Little Princess outfits is hilarious, so I'm probably not the best judge of funny.
Next: Jennifer Lopez apparently thinks her babies are going to get kidnapped.
Jennifer Lopez Babynapping!
Yes. According to TMZ, the hospital where JLo and Skeletor, I mean, Marc Anthony, are planning to pop out their spawns is practicing Pink Drills, which I guess is code for "THE DINGO STOLE MY BABY!" or something like that.
First, I would be afraid to even TOUCH those babies because you just know that Skeletor has some kind of death ray that he's been saving just for that very moment. Second, JLo might be all rich, but she is still Jenny from the Block, and she will CUT YOU. I'm not even kidding. – source
Next: Tyra Banks has apparently had herself an unfortunate accident.
Just Call Her Miss Poopy Pants!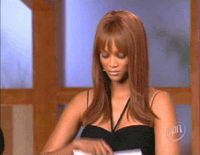 I actually LURVE me some Tyra, she cracks me up, but apparently she was at Fashion Week and all of a sudden was rushed to a tent or something to change her clothes. Rumor has it that Ty Ty has a litle bit of the old IBC (Google it) and unfortunately this means that sometimes she, uh, well, she poops her pants. Maybe she needs some of these?
Oh, well, we all have our little quirks. Let's see what else is going on around town:
Jessica Simpson and Tony Romo are influential
Lindsay Lohan and Fendi
Mary Kate and Ashley doing their fashion thing
What's going on with Prince William and Kate?
Nicole Richie loves her baby Harlow
That's all for this morning; I'm off to have some chocolate for breakfast. See you this afternoon!