Giuliana Rancic Thinks She's Asking A Really Creative Interview Question, Sarah Paulson Shuts Her Right Down
By
|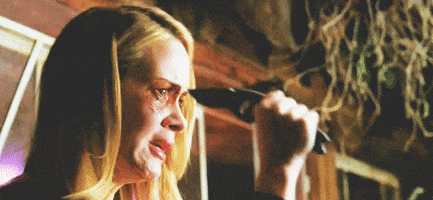 I've always said that the red carpet shows are the most uncomfortable part of award shows because they are quick-moving and rarely scripted (and even if they are scripted, many times go quickly and easily right off the rails) and last night's Emmys didn't disappoint.
Giuliana Rancic is no stranger to things going awry during her interviews on the red carpet, and she's generally used to sticking to light, easy questions for her celebrity guests. But Sarah Paulson was having NONE of that last night, and she shut Giuliana right the fuck down.
Sarah was nominated for her role in American Horror Story: Freak Show in which she portrayed a woman with two heads. Giuliana first reminded everyone that Sarah has been nominated and lost four times for her roles on AHS, then she thought she was being super original by asking if Sarah wins this time, does she get to take home two statues?
Spoiler alert: shit gets awkward, fast.
Sarah Paulson with an outstanding subtweet of Giuliana Rancic. pic.twitter.com/45KEpgPwH3

— Dave Itzkoff (@ditzkoff) September 20, 2015
THE SHADE. Slow clap, Sarah Paulson.
(GIF: Giphy)