Candace Cameron Bure Claims Fuller House May Be A Bit Racier Than The Original
By
|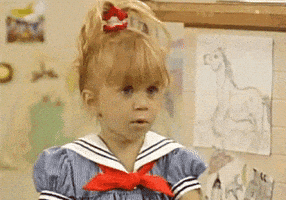 Take this with a very large grain of salt given the source, but Candace Cameron Bure says that Fuller House may be a bit "racier" than the original show, which most people remember as being soapy, sappy, and so sugary sweet, it'd give you a cavity.
Candace gave an interview to TVLine and she had this to say:
"Tonally, the show is very much the same, but it's updated. I'm sure a few of the jokes are a little bit racier now than they would have been in the '90s, but it's still nothing that's inappropriate or that you would feel uncomfortable watching with your kids. We're three grown women, and I have to say, we're all pretty good-looking, too. We have some cute guys on the show, too, so that's fun."
Given that Candace refused to "show skin" when she was on Dancing with the Stars, that she blushes upon just hearing the word "vibrator", and that she lets her husband make every major decision in their marriage, I'm sure the most racy situation on the upcoming series will be use of the word "hell" instead of the word "heck." 
Nah, I'm just being mean now. Netflix's original programming tends to push the boundaries because it doesn't have to contend with the rules of cable and normal TV viewing (seriously, when watching the first episode of Orange is the New Black, I thought my eyeballs were going to fall out of my head and I'm not a prude in the slightest.)
Candace had a little more to say about her role as a grown-up DJ Tanner, too:
"She's in mom mode, full-time. She's not a teenager anymore, but she's still really fun. She also has to keep three boys under control without a husband, so she's got to be a disciplinarian. If you were that teenage girl who wished that DJ was your sister, or wished that she was your best friend, you'll be really happy with how she is as a mom."
She also promises that Kimmy Gibbler will be less annoying as an adult:
"You're going to howl over Kimmy! Andrea Barber is so funny, it's ridiculous. She's even funnier as Kimmy as an adult than she was as a kid. Kimmy and DJ are still best friends, and because Andrea and I have been really close friends our whole lives, you really see the chemistry on screen."
Sadly, Candace wouldn't comment on the most important member of the new cast, her ex-boyfriend Steve, who she brutally dumped while hiking up a mountain (what a bitch!) but rumors have it he'll be back, so stay tuned.
(GIF: Giphy)