Chrissy Teigen Does More Of What She Does Best: Start Twitter Wars
By
|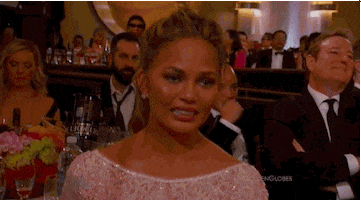 (via)
Another day, another Chrissy Teigen Twitter war. Chrissy really enjoys connecting with people on social media, and by that I mean, she enjoys taking the time to personally call out trolls and start wars with them.
This weekend, Chrissy (who also considers herself to be a "foodie" with a food blog and everything. Sigh, remember when we just ate food and enjoyed it, no matter what it looked like or how ~cool~ it sounded?) posted a photo of some spaghetti carbonara she made and people apparently commented on how small the portion size is (guys, if you're commenting on some c-list celebrity's dinner on Instagram, please get a life and fast). Chrissy is also a "supermodel" so of course people were crying "too thin!" "she doesn't eat enough" and the like. Here's a photo of the offending pasta dish:
Chrissy shot back at her ~haters~ in a series of tweets and comments, saying that she's "not the fucking Cheesecake Factory" and that it was a starter course, thus the small portion size. She then said:
Blocking people from a pasta picture. SMH. Controversial post, apparently.

— christine teigen (@chrissyteigen) October 4, 2015
The only thing lamer than commenting on a supermodel's dinner photo is said supermodel responding to the comments and drumming up a fake controversy over literally nothing. I know Chrissy likes people to believe she's really self-aware and witty, but her constant need to respond to these losers really just reads, to me, as trying waaaay too hard.
I don't particularly care how much spaghetti carbonara Chrissy Teigen eats (or doesn't eat), but I fucking love The Cheesecake Factory, and it's an everlasting love. Their portions ARE enormous, but we all know that, so carry on.
So, just to recap, we've learned a few things: Justin Bieber is not a taco, and Chrissy Teigen is not The Cheesecake Factory. But who is going to answer the most important question of all: is Beyonce *really* Popeyes chicken?
(via)