The Can't Hardly Wait Reunion Doesn't Count, Because Amanda Beckett Wasn't There
By
|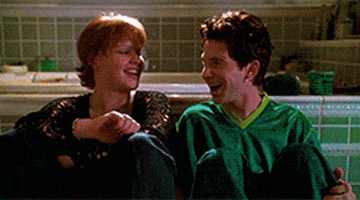 (via)
Since we're all obsessed with '90s stuff being reborn (the cast of The Baby-Sitters Club just reunited two weeks ago, and the latest rumor is that of a Spice Girls/Backstreet Boys tour next year), it's only natural that the cast of Can't Hardly Wait would reunite, too.
I'm all for this, as Can't Hardly Wait is one of my all-time favorite movies, so I was extremely excited to see this news today. But I can't get behind it.
Check out a photo from the reunion, which took place at a screening of the film in Los Angeles over the weekend. It's cute, and everyone looks great (and seemingly pretty ageless), but it's missing a few KEY people.
Wait a second?! WHERE is Amanda Beckett? Denise Fleming? KENNY FISHER?! A Can't Hardly Wait reunion without Jennifer Love Hewitt, Lauren Ambrose, and Seth Green is NOT a reunion I even consider real.
Call me when the WHOLE cast gets back together. Including all the incredible cameos and uncredited appearances. I'm looking at you, Breckin Meyer, Jerry O'Connell, Melissa Joan Hart, Selma Blair, Sara Rue, Donald Faison, Clea Duvall, Jaime Pressly, and Jason Segel.
(Photo: Jonathan Leibson/Getty Images)