I'm Thanking My Lucky Stars Because Britney Spears Is Working On A New Album
By
|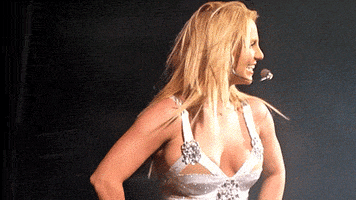 Rejoice and praise Godney, because Britney Spears has finally confirmed what we've been hearing for a while now — there will be a ninth album!
After the flop that was 2013's Britney Jean, which was basically just a promotional effort to get people in the seats to her Vegas show (hey, I'm a huge fan and can even admit she phoned it in — that album is one I've learned to love, with time, but at first was like OMG WTF is this!), I was honestly worried Britney was done with making new music forever. I still fear that her stint in Vegas is kind of the "last hurrah" for her performing career, but the fact that she's releasing new music is a good sign.
Last night, Britney tweeted a photo from the studio, confirming that she's working on new music (score!):
Working hard and hardly working…new album…wheeeee! pic.twitter.com/qrMg3FnB22

— Britney Spears (@britneyspears) November 3, 2015
She teased this announcement back on October 30th, tweeting this:
JUST finished recording some vox. LOVE this song. It makes ME smile, and I hope it will make you smile too… #B9

— Britney Spears (@britneyspears) October 30, 2015
#B9 obviously refers to this being her ninth album. She also told E! News back in August that she'd been in the studio working on new music. "We're having fun right now. I'm working with some women who are amazing writers. I have ballads and, of course, dance music—fun cheeky sexy stuff."
Britney, I'm ready. The world is ready.
(GIF: Giphy)