Britney Spears Reminds Us All Why Her Acting Career Needs To Happen
By
|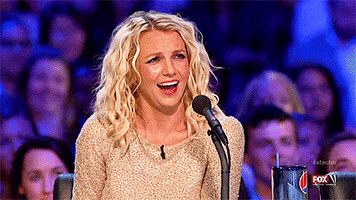 Just this week, her Crossroads co-star Taryn Manning sang her praises and lamented on why Britney Spears needs to guest star on an episode of Orange is the New Black, and Gina Rodriguez, the star of Jane the Virgin, also said that Britney's upcoming guest spot is going to be "so good," "epic," "amazing," "everything" and she's "gonna kick ass." So it's safe to say that the gods above are answering my prayers because I want to see Britney in literally anything and everything. She should be in every car insurance commercial that exists, for crying out loud. She's Britney, bitch.

Last night, Neil Patrick Harris debuted his new variety show, Best Time Ever with Neil Patrick Harris, and Britney took time out of her Vegas rehearsals to appear in a skit. And, boy, she delivered.
Neil and Joe Jonas sat in a control room while Britney, mic'd up and ready to repeat whatever they told her to, interviewed a group of unsuspecting potential bodyguards and she freaked them all out in more ways than one. Upon meeting bodyguard number one, she introduced herself as "the one and only Britney Spears" (I die) and demanded that he kiss her hand (what an honor!).
Britney asked "How strong are you?" with her signature wide-eyed look and he replied that he was the strongest man in the whole military. "Stronger than tanks?" she asked back. QUEEN.
She succeeds in fully freaking each poor victim out, asking one to find something "very dangerous" in the stadium seats of her show, only to find a cactus (LOL). She even goes rogue. She seems visibly nervous in true Britney fashion before each interview, but runs with it and has a lot of fun.
People forget how funny and adorable Britney is, and it makes my heart hurt. She's the best, and I've watched this clip probably five times already and cracked up each time. Gimme more, please.
(GIF: Giphy)