10 Scandals That Rocked the Academy Awards
By
|
Official Hollywood often puts on its best dresses with its best behavior for an awards show, but like any prom, there's inevitably going to be some drama — and the Oscars is no exception. From backstage fights to onstage outbursts, and from the red carpet to the walk up the aisle, there's usually at least something to liven up the stultifying and self-congratulatory display that is the Oscars ceremony, once the red carpet winds down.
10. Michael Moore Goes Nuclear On W.
Michael Moore took the stage in 2003 to accept an Oscar for his documentary Bowling From Columbine, and brought with him all his fellow nominees "in solidarity" — but not because they were all deserving. Rather, they were in solidarity with Moore's anti-war, anti-Bush statement that shocked the Academy, earned him boos and got him played off stage as fast as the orchestra conductor could pick his jaw up off the ground.
9. Bjork Lays An Egg


In 2001, Icelandic singer Bjork famously walked the carpet in a dress shaped like a swan — complete with the head and beak — and promptly laid a literal egg on the red carpet. When she sang her Oscar-nominated song "I've Seen It All", the cameras did all they
could to camouflage the fact that she was swaddled in a swan dress, but no matter — it dwarfs even the memory of Julia Roberts' vintage Valentino dress that remains a critical favorite today.
8. The Start Of The Letterman-Oprah Feud
When David Letterman hosted the Oscars in 1995, Oprah Winfrey was the Queen of Daytime, Uma Thurman had just gained international prominence for her role in Pulp Fiction and David Letterman was a critical late-night darling after his 1993 move to CBS. He then spent much of the Oscars presentation repeating "Uma, Oprah. Oprah, Uma" to the increasing boredom of the audience and the apparently annoyance of Oprah. After his turn at the Oscars helm, Oprah reportedly refused to appear on Letterman's The Late Show for more than 16 years, breaking her boycott in 2005 by presenting Letterman with a framed photograph of herself and Uma Thurman and burying the long-held hatchet. No one messes with Oprah, and the feud is only over when she says it's over.
7. Matt Stone And Trey Parker Go Camp


Few actors or politicians who achieve any prominence escape Stone and Parker's poison crayons on South Park or in their movies, and the duo decided not to let their big night at the Oscars in 2000 be any different. Their song with musician Matt Shaiman, "Blame Canada," was nominated and was performed by Robin Williams at his frenetic finest, but it was the frippery of Stone, Parker and Shaiman who made the big news. Stone showed up in a parody of Gwyneth Paltrow's 1999 Oscar ensemble, which was pilloried by fashion critics for being insufficiently supportive; Parker reveled in his parody of Jennifer Lopez's 2000 Grammy dress; and Shaiman escorted the two dressed like a foppish pimp. They didn't win anything that night but America's imaginations.
6. Cameron Loses It Over Jessica And Justin


At the 2007 Oscars, a recently-single (and recently brunette) Cameron Diaz arrived without ex-boyfriend Justin Timberlake in tow, and so did his reported new love interest, Jessica Biel. Although their joint statement shortly before the Oscars indicated their break-up was amicable, Diaz's off-camera behavior when she saw Timberlake making eyes at Biel made the papers, and the
Diaz-Timberlake relationship remained frosty until at least earlier this year.
5. Roman's Rape Case Rears Its Ugly Head


Roman Polanski, who is currently under house arrest in Switzerland after nearly 30 years on the lam, is a convicted rapist who fled his sentencing and had lived abroad ever since. While interest in his case was renewed by his arrest in 2009, the original case files hit the Internet in 2003 just as Polanski's film The Pianist — and Polanski himself — were up for a series of Academy
Awards in 2003. Polanski was nonetheless awarded the Best Director Oscar, but due to his ever-present desire to avoid his rather light criminal sentence in the rape of a 13-year-old girl, he declined to attend the ceremony. His win earned him a standing ovation from some in the crowd, including Martin Scorsese (who, in 2009, called for Polanski's release), while others, including Jack Nicholson — in whose home Polanski raped his victim — remained seated.
4. Jennifer Aniston, Angelina Jolie and Brad Pitt Appear In The Same Auditorium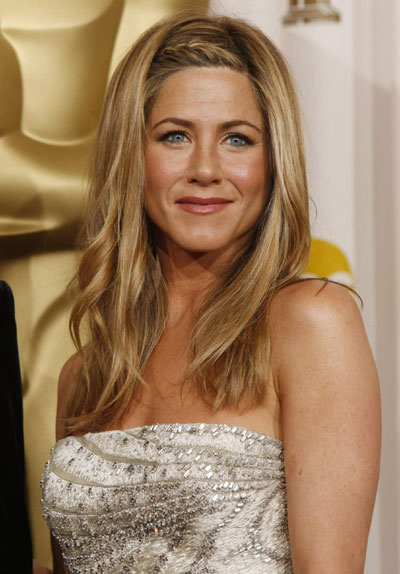 Given the gossip that has surrounded Aniston, Pitt and Jolie since the former two ended their marriage and the latter two started their relationship, it was inevitable that the first time they were in the same building together with a bunch of photographers would make waves. And yet, Aniston's turn as an Oscar presenter in the year that Pitt was nominated for his work in The Curious Case of Benjamin Button and Jolie was nominated for her work in Changeling was more notable for how newsworthy it wasn't than anything that actually happened. Apparently, three people who work in the same industry can actually behave like adults at a work event! Who knew?
3. Adrien Brody and Halle Berry Lock Lips
When Adrien Brody won the Oscar for his work in The Pianist, he strode onto the stage, took actress Halle Berry — who, by all accounts, he was not close to — into his arms, and planted a long, romantic-movie style kiss on her. The audience, gasped, Halle laughed and everyone and their mother speculated whether there was anything going on between the two of them — or whether, after a kiss like that, there would be.
2. Beyonce Pulls A Janet
In last year's Hugh Jackman-hosted Oscars extravaganza, he and Beyoncé Knowles performed a musical homage to the cinematic musical number, appearing with the stars of Mamma Mia and High School Musical. Also making an appearance: Beyoncé's left nipple, as Jackman dipped her on stage.
1. Jolie Swaps Spit With Her Brother


Long before Angelina Jolie was the sexiest mother-of-four in Hollywood, she was that weird chick married to Billy Bob Thornton with a bunch of strange roles to her name. That changed when she took home an Oscar in 2000 for her role in Girl, Interrupted — and yet, also, it didn't change at all. When her name was announced, Jolie, who had taken her brother James Haven to the ceremony, stood up and kissed him in a way that most people in America don't kiss immediate family members: full on the lips, and with a great deal of warmth. Speculation ensued — and continues to this day — that the siblings had more than a strictly fraternal bond, something they
both deny. But when it comes to Angelina Jolie, there's no rumor too small or too wild that it won't have legs in the tabloid press.
–By Megan Carpentier