Ariana Grande Doesn't Have Time For Sexist Radio Hosts, Thankyouverymuch
By
|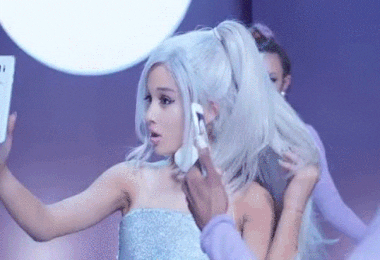 Ariana Grande is definitely a polarizing lady these days, after her snafu with the donuts this past summer. People either still hate her for it or are totally over it, but she pretty much won my heart back by shutting some radio hosts right the fuck down last week.
On Thursday, she appeared on Power 106 FM to promote her new single Focus, and she made it clear that she's not about ridiculous interview questions regarding emojis.. seriously.
At the 16-minute mark, the DJs, named Justin Credible and Eric D-Lux (those names, though), asked her which item she'd like to be able to use "one last time" (in honor of one of her hits), makeup or her cell phone, and Ariana responded, "Is that what you think girls have trouble choosing between? Is this men assuming that that's what girls would have to choose between?"
They didn't believe her when she said she could go "many hours" without looking at her phone, and that she prefers to be "present and in the moment" most of the time, including at the dinner table. One host then said, "ladies, learn…" and Ariana shot back "boys, learn." Ariana said that "boys and girls can all learn." Touche.
They then went on to discuss the new emojis, and Ariana said, "The unicorn [emoji] is great, obviously," she commented before one host said, "girls…"
"Many boys use the unicorn," Ariana responded. "You need a little brushing up about equality. Who says the unicorn emoji isn't for men? … Real men use the unicorn emoji and aren't afraid."
She went on to add, "I think judgement in general. Intolerance, meanness, double standards, misogyny, racism, sexism. All that s—. That's what we need to focus on. We've got work to do."
Thank you, Ariana. We can ALL use the unicorn emoji as much as we damn please. Men, women, exceptionally tech-savvy puppies, whatever. Emoji equality, for all.
(GIF: Giphy)